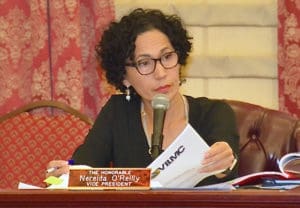 A human declaring another human's life has ceased is a "sacred role," V.I. Attorney General Claude E. Walker, told senators Wednesday.
He was testifying on a bill to allow registered nurses, physician assistants and nurse practitioners to declare people dead when the death had been expected.
A bill concerning the licensing of nurses was also under consideration Wednesday by the V.I. Senate's Committee on Health, Hospitals, and Human Services. The latter bill received less debate. It was seen by sponsor Sen. Nereida Rivera-O'Reilly as "a simple bill," aiming to make the licensure procedure more efficient and clearing up what Rivera-O'Reilly referred to as a bottleneck.
At present all nurses' licenses are renewed in the same month every two years. Rivera-O'Reilly said that this was overwhelming at times. The bill which was moved forward to the Rules and Judiciary Committee with a favorable recommendation calls for each nurse to renew his or her license in the month corresponding to a date of birth.
Even though the bill concerning who can make a declaration death only applied in cases where death is expected, such as for residents in hospice care, Walked urged the senators to be cautious. He cited a case in New York where a patient was declared dead who was not dead. The declaration delayed treatment for the patient who subsequently actually died; immediate treatment might have saved the patient's life.
However, Walker noted times had changed and a change in the law was warranted. He urged senators to make the language in the bill under consideration to be "strong and more precise" so the nightmare that happened in New York would not happen in the Virgin Islands. He urged only nurses authorized by the responsible physician be allowed to make the declaration and said the bill should include a list with criteria for a declaration.
Tracy Sanders, president of Continuum Healthcare Inc. in the Virgin Islands, said the measure would bring the territory in line with the system used in the states for decades.
"Certified hospice providers across the U.S. have had Registered Nurses pronouncing at death in the home since the 1970s," she said. "The act of pronouncing death is recognized as a profound moment for families. The memories of how the death pronouncement occurred have been recognized as a factor in bereavement and also as a sacred moment. Yet, the realities of hospitals often mean that the death pronouncement happens at times when only an on-call physician is present, a person who is often unknown to the family and who has never met the patient. When someone passes, this is an important time for grieving. In many cultures, when someone passes, the ritual of prayer and family gathering initiates the healing. It is at this time, that the hospice team provides immediate grief and loss counseling."
Sen. Novelle Francis who chaired the hearing in place of Sen. Rivera-O'Reilly because she sponsored both bills under discussion, said he had reservations about the bill but testimony had "alleviated his fears."
Sen. Dwayne DeGraff, however, was not completely convinced by the testimony.
"I just feel uncomfortable with anyone but a doctor pronouncing a person dead," DeGraff said.
Sanders testified she and her husband, Dr. Herbert Sanders, founded Continuum Care Hospice in 2000. They provide home hospice care on all four islands and have maintained Medicare certification, she said.
Hospice, as defined by Medicare, provides end-of-life care to individuals who have a life limiting disease or terminal illness with a life expectancy of six months or less if the illness takes its normal course, Sanders said.
Attending the hearing besides O'Reilly, DeGraff and Francis were Sens. Marvin Blyden, Sammuel Sanes, and Kurt Vialet.