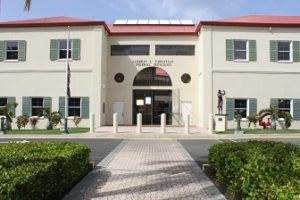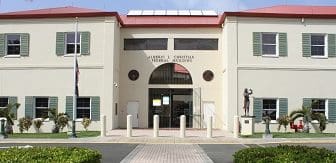 A marine interdiction officer with the Department of Planning and Natural Resources went on trial this week accused of being a drug trafficking mastermind.
The two-day federal trial of Gerald Mercer, 43, featured a key witness who was part of the security team at Government House.
The defense tried to discredit that witness and have the case thrown out before it went to the jury. Defense Attorney Clive Rivers went after former security officer Neal Chesterfield and the transcripts produced in secret by a grand jury.
A federal prosecutor had to overcome setbacks as result. Details about the arrest of a Government House security man caught with 21.5 kilograms of cocaine at Cyril E. King Airport were thrown out. So was the testimony of close to half a dozen witnesses linked to Chesterfield's arrest on Sept. 3, 2016.
Also tossed aside by District Court Judge Curtis Gomez was the testimony of a second key witness. Like Chesterfield, that witness, Vanier Murraine, admitted guilt as a large scale drug smuggler and was wearing the tan jumpsuit and chains given to inmates held in federal detention. Murraine is doing time after pleading guilty to his role in a separate conspiracy under drug trafficker Nilda Morton and a dozen other co-defendants.
All of this occurred at the end of the second day of Mercer's trial, as Assistant U.S. Attorney Delia Smith rested her case and Rivers decided not to present a case at all.
It was up to the government to meet the burden of proof against Mercer, Rivers said. The defendant is charged with 17 counts of conspiracy to possess cocaine with intent to distribute. Smith said the conduct occurred between January 2012 and September 2016.
Several witnesses gave testimony after a jury was chosen and sworn in Tuesday morning. Chesterfield made two appearances; one late Tuesday and the next on Wednesday. As the trial got underway, Rivers pointed to an unresolved pretrial motion for the receipt of transcripts from the grand jury. Gomez said he would take it under consideration and later ruled in favor of the defense.
But information contained in the transcripts did not support River's assertion that the secretive process had been tainted.
The defense attorney was more successful in convincing the judge that the circumstances surrounding Chesterfield's arrest at the airport could not clearly demonstrate where Mercer played a role.
Gomez said it was clear that the material contained in that testimony differed from the conspiracy for which Mercer stood trial. From that declaration came a ruling that the scope of the crimes in question would spread out over a two year, rather than of a four year span; from 2012 to 2014.
During that time, there were others keeping an eye out for Mercer. Homeland Security special agent Jason Allen testified that in 2012, he was sent to Florida to find out about the purchase of a speed boat, also called a go-fast boat, headed for Mercer in the Virgin Islands.
Allen said he was instructed to place a tracking device on the boat Mercer bought at an auction. He also told the court how he inspected the vessel and found it had been modified in four different areas. One of the modifications was the addition of a second fuel tank underneath the control panel, he said.
Murraine's testimony focused on his relationship with Makimba Barry. Barry, 39, was identified in court as being part of the conspiracy team under Mercer. But the witness told the court he did not know the defendant personally and had no direct knowledge of any drug related activity attributable to him.
Murraine's testimony consisted of conversations he had with Barry about Barry's relationship to Mercer.
The only portion of the Sept. 3 airport incident that remained in play was Chesterfield's statements on the stand that the last thing he saw before walking through the double doors of Cyril King Airport the day he was arrested was Mercer watching him while the defendant was seated in his government issued DPNR vehicle.
In closing arguments Smith said that was Mercer's pattern. He and Chesterfield were friends from childhood, she said. They remained friends as each advanced through careers in law enforcement; Chesterfield at the Port Authority, Mercer in the marine unit at DPNR.
But when Chesterfield joined the security team at Government House, Mercer saw an opportunity. The security credentials given to one of the governor's bodyguards would allow airport clearance at the highest level to someone smuggling cocaine, Smith said.
By describing the encounters, the discussions that took place in his testimony, Chesterfield told how he was recruited into the conspiracy, starting in 2012. He said Mercer browbeat him, pressuring him again and again.
Once he joined the team, Chesterfield told how he watched Mercer pack drugs into a pair of oversized jeans that were then packed into a suitcase. His childhood friend also began talking to him about testing the way carry on items were screened by packing a firearm on his person and boarding a flight.
Prior to making his closing arguments, and before Gomez instructed the jury, Rivers moved for dismissal. Chesterfield was a liar out to save himself and the prosecution had failed to meet its burden of proof, he said.
"I think what was presented before the court was a series of conspiracies and not one single conspiracy," Rivers said.
But Gomez said no. Based on the submission of certified phone records, flight records and hotel records, there was sufficient evidence that Morton was involved in a drug conspiracy and a reasonable jury might find him guilty, the judge said.