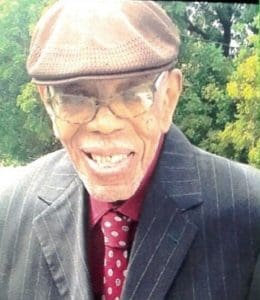 Victor Skerrette, also known as "Sunny," of Estate Sion Hill died on May 8. He was 94 years old.
He was preceded in death by his parents: Ruth McDonald and John Skerrette; sister, May Skerrette; and brothers: Hugh Skerrette and Leonard Hypolite.
He is survived by his wife, Iris Skerrette; daughters: AnnMarie Skerrette-George, Kathleen Skerrette, Shirley Skerrette-Knight and Jennifer Skerrette-Edwards; sons: Terrance Skerrette and Sean Skerrette; grandchildren: Duane George, Dean George, Nicole Skerrette, Bianca Skerrette, DeAndre Knight, Quinton Knight, Jenaya Edwards, Amaya Edwards, Zakara Skerrette and Terrance Skerrette Jr.; and great-grandchildren: Nasira George, Terria Skerrette, Terrance Reyes, Terrence Skerrette III and Jayden Skerrette.
He is also survived by nieces: Debra Arthur, Carol Skerrette, Claudette Skerrette-Griffith and Michelle Perry; nephews: Gary Ambrose and Richard Gomez; daughter-in-law, Patricia Skerrette; sons-in-law: Cleoh Knight and Andrew Edwards; brother-in-law, Anthony Ambrose; sisters-in-law: Rita Archie, Nora Clark and Mary Hypolite; godchild, Janelle; special friends: Joan Applewhite, Terry Applewhite, Charles and Gloria Smith, Pretty Boy and Patsy, Mr. and Mrs. Sweeny, the Albert family, Ms. Alexis, Mr. and Mrs. Roach, the St. Ann's Catholic Church family, MaeLouise Williams, Nataki and Jana, and Ms. Vena; as well as other family and friends too numerous to mention.
A viewing will take place at 9 a.m. followed by a funeral service at 10 a.m., Tuesday, May 22, at St. Ann's Catholic Church. Interment will be at Kingshill Cemetery.