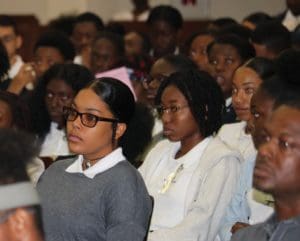 St. Croix Educational Complex (SCEC) High School recognized 240 high-achieving students who earned a GPA of 85 percent and above for the marking period. The Academic Honor Awards Program was held on Wednesday, May 9, in the school auditorium.
In all, 65 10th graders, 61 10th graders, 45 11th graders and 70 12th graders were presented with certificates of achievement.
During her opening remarks, Principal Genitta Richards praised the students' accomplishments: "Two hundred and forty students are receiving these distinct honor of excellence awards. We are here to celebrate you, to recognize your accomplishments, your hard work, your persistence and dedication, and commitment to excellence throughout the year."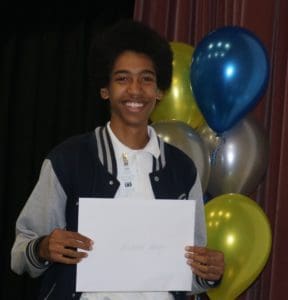 Tenth grade counselor Sherma Ferdinand introduced Morisa V. Jagrup, the guest speaker and SCEC Class of 2007 graduate. Jagrup attended Florida Memorial University on a full scholarship and maintained a 3.75 GPA while attaining a Bachelor of Science in Business Administration. She is currently the assistant director of Leap and Learn Academy on St. Croix.
She offered students tips on how to lead successful lives. "Focus on your goals; first of all, create goals. If you don't have any goals, you don't know what to focus on. So, create some goals; create goals that are high enough that you can achieve," Jagrup said.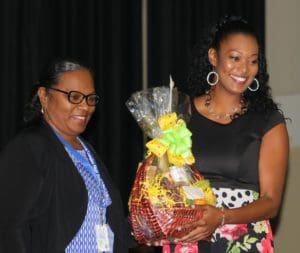 Throughout her motivational remarks, she thanked students for their hard work and encouraged them to keep excelling. She also instructed students to give themselves a congratulatory pat on the back and to congratulate each other.
"You all sitting here today are honor students; you are the future generation," she said. "Rise up to the challenge; keep up the excellent work; be proud of yourself."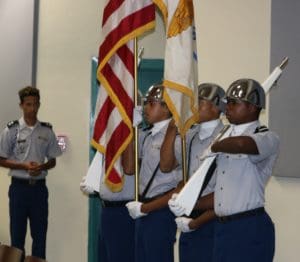 To close the spirited ceremony, Assistant Principal Pedro Parilla reminded students that they achieved the academic milestone because of their persistence. "A task of this magnitude does not happen overnight," he said. "We thank everyone for coming, and we always remember to say it's a great day to be a Barracuda!"
The Barracuda Battalion, commanded by Cadet Cpl. Guadalupe, led the color guard. Senior Kishawn Hardy performed the National Anthem, and the Virgin Islands March was performed by students Sanaa Burke, Abigail Valery and Chelsea Valery.