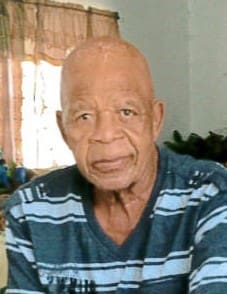 Francisco Hassell Sr., also known as "Franco" or "Cook Frances," of Hannah's Rest died on April 12. He was 81 years old.
He was preceded in death by his parents: Mary Hassell and Robert Chippendale; sons: Fitzroy Taylor, Robby Hassell and Stanley Dunker; sisters: Inez, Jullin, Doris, Jane and Johann; and brothers: William and James
He is survived by his wife, Rafaela Hassell; daughters: Rosita Blaylock, Kiara Hassell, Jullin Watson, Sharine Hassell, Olivia Hassell, Franchesca JnBaptiste and Noime Hassell, also known as Edna Payne; and sons: Francisco Hassell II, Glenville Hassell, Roberto Dunker and Roberto Watkins.
He is also survived by grandchildren: Sheniqua, Cherise, Marteshia, Danielle, Reesheema, Adelaida, Magalie, Adonna, Jahmeka, Amara, Glenda, Quana, Kyra, Tianna, Yolanda, Anayah, Leighlani, Khalanee, Troy, Sheldon, Dennis, A'drian, Tashshia, Jaheem, Raheem, Keemanee, Clifton, Kamia, Lanique, Clarrisa, Jamarus, Francisco III, Malihk, Khalyeel, Joshua, Nacibo, Joel, Keshawn, Roel, Sheldon H., Thaddeus, Cisco IV, Jelani, Kemani, Delani, Jahki, Ezrah, Kemoy, Jahkyra, Isiah, Alezrah, Tamrah, Ivy, Irwyn, Prince, Madden, Johanna, Luis Alberto, Juan, Shasha, Jose, Tishana and Michael.
Other survivors include sisters: Ruth Chippendale, Gladys Hassell and Clementina; brothers: Vincent and Henry; nieces and nephews too numerous to mention; great nieces and great nephews too numerous to mention; daughters-in-law: Dr. Doreen Watson and Coanne-Breaton Hassell; son-in-law, Pervy JnBaptiste; special friends: Elder N. Alfred, Valvina, Frederiksted Clinic, Juliana Hansen, Elder A. Charles, Iran, Ching, Dr. James, Karen, Tara and Casey; cousins and other relatives: the Tatem family, Spanners family, Chippendale family, Coutar family, Williams family, Joseph family and the Hassell family; as well as other family and friends too numerous to mention.
The viewing will take place at 10 a.m. followed by the funeral service at 11 a.m., Thursday, May 10, at Central Seventh-day Adventist Church. Interment will be at Kingshill Cemetery.