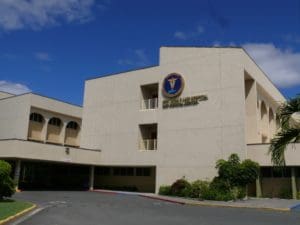 Employer contributions to St. Croix hospital worker pensions is expected to increase, now that the territory's hospital board has approved a $12 million contribution.
Friday's board action follows a closed door executive session held earlier this week.
Friday's meeting also began with an ending, as board chairwoman Vera Falu announced her resignation, effective immediately.
As she called the meeting to order, Falu asked the board secretary to read her resignation letter. The letter was addressed to Gov. Kenneth Mapp.
The hospital board chairwoman did not explain why she wished to leave her post immediately.
A top official at the Government Employees Retirement System withheld comment about the approval of payments. But an attorney for the GERS said a lawsuit designed to compel payments is scheduled to begin May 21.
GERS filed suit against JFL Hospital, the Government of the Virgin Islands and the Virgin Islands Government Health and Hospital Facilities Corp.
Hospital board attorney Lorin Kleeger said the suit was filed in an attempt to make the hospital pay the employer match on pensions. Kleeger said Friday expressed hope that freeing funds to pay the $12 million will help avert further litigation.
"The hospital and the corporation are not in dispute. The money is owed," he said.
Board members voted on a motion to pay its pension obligation by contributing 100 percent of a $2.8 million settlement and $9.2 million from a cost recovery fund.
A tentative agreement to pay $12 million came about as a result of talks between parties in the pending civil case and development of a draft settlement Kleeger said.
Health Commissioner Michelle David, board chairwoman Falu, former board chairman Cornel Williams and Margaret Sprauve voted to approve the measure. Finance Commissioner Valdamier Collens and Management and Budget Director Julio Rhymer abstained.
GERS Executive Director Austin Nibbs turned aside an invitation by the press to react to Friday's vote. Nibbs said he had only heard about the $12 million approval after he was contacted by a reporter for comment.
"I don't want to speak. Maybe it would be better to wait," Nibbs said. Pension system officials would soon be in court over the failure by JFL to pay an employer match, he said.
With that, the director deferred to GERS legal counsel Cathy Smith. Smith confirmed the case is set to be heard before Superior Court Judge Robert Molloy on May 21.
Executive sessions in public board meetings are often held to discuss matters involving personnel, or of a legal or proprietary nature. Actions in the form of votes – if there are any – are taken at the close of the session with the board meeting open to the public.