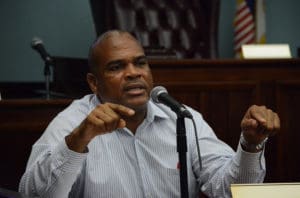 The Senate's Committee on Homeland Security, Justice and Public Safety will conduct a series of site visits to evaluate the state of the infrastructure at public buildings under the committee's purview.
"The main purpose of the visit is to gather information regarding the Bureau of Corrections and the Bureau of Motor Vehicles facilities' infrastructure, their security shortfalls, improvements made since the recent storms, their preparedness for the 2018 storm season, and any other pertinent data necessary to give the committee members more insight on their agencies' challenges," said committee chairman Sen. Brian Smith in a letter to the committee members.
The tentative schedule for the visits is:
Wednesday, May 2, St. Croix
– 10:15 a.m., Golden Grove Correctional Facility
– 12:15 p.m., Bureau of Motor Vehicles
Thursday, May 3, St. Thomas
– 10:15 a.m., Alexander Farrelly Criminal Complex, Third Floor
– 12:15 p.m., Bureau of Motor Vehicles
Smith reminded the committee members that, per Bureau of Corrections security rules, all visitors must have a current identification card, and as part of the civilian dress code protocol, the colors red and orange are prohibited at both facilities.