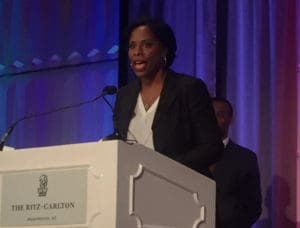 Delegate Stacey E. Plaskett was honored Tuesday by the Congressional Black Caucus's Health Braintrust with the award for Outstanding Legislator, according to a news release from her office.
Plaskett is ranking member on the Subcommittee on the Interior, Energy, and Environment. The 2018 Distinguished Chairwoman's Outstanding Legislator Award from the Congressional Black Caucus Health Braintrust was presented to Plaskett in recognition of her leadership on health policy and equity advocacy, and her continued advocacy for eliminating disparities, particularly in the area of health.
"It is both an honor and a pleasure to receive this year's 2018 distinguished Chairwoman's Outstanding Legislator Award from the CBC Health Braintrust," Plaskett said while accepting the award. "I would like to extend a special thank you to Congresswoman Robin Kelly, Dr. Gary Puckrein and the National Minority Quality Forum for recognizing me for this award and for their hard work when it comes to assisting health-care providers, professionals, administrators, researchers, policy makers, and community and faith-based organizations in delivering appropriate health care to minority communities across the nation and the U.S. territories."
Plaskett has introduced HR 2404, :"The Improving the Treatment of the U.S. Territories Under Federal Health Programs Act," which would lift the territories' annual Medicaid per-capita cap and arbitrarily low FMAP limit, and provide an equitable formula for Medicaid and Medicare DSH payments. The bill also would add provisions for improved treatment of territories under Medicare, and a report on their practical exclusion from the exchanges under the Affordable Care Act.