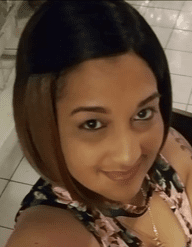 Isania Cruz, also known as "Queen Isa," of Mon Bijou, died peacefully in San Antonio, Texas, on March 15. She was 31 years old.
She was preceded in death by her grandmother, Herminia Cordero; and special friend, Jovan J. Joseph Sr.
She is survived by her mother, Isabel Cordero-Cruz; father, Armando Cruz Gomez; grandparents: Julio Cordero, Theodora Concepcion and Seeraj Rajkumar; sons: Jovon J. Joseph and Emani E. George; sister, Yahaira Cruz; brother: Shazim Cruz; niece, Nailah Diamonique Lang; nephew, Omar Lang Jr.; brother-in-law, Ismael Rodriquez; aunts: Raquel Concepcion Gomez, Julia Cordero-Lopez, Margarita Cruz-Felix, Tamara Cruz and Suzanna Concepcion; and uncles: Leonardo Cruz Sr., Felipe Concepcion, Jose Lopez Jr., David Concepcion, Eugene E. LaCorbiniere and Miguel Felix Sr.
She is also survived by special friends: Eddie George, Debra Davis, Shanice Williams, Leesa Torruella, Zaisha Velazquez, Sheryl Bastien, Candace Smith, Arelis LaTorre, Sean Nixon, Kaiel Branch, Merci Melendez (Suelta), Cherene Williams Walters, Chantelle Robles, Akeela Thompson, Shana Johnson, Tiffany Camacho, Carmen Cruz and Miguel Cruz, Sarah Joseph Carino, Mavis Williams and Debra J. Davis.
Other survivors include cousins and other relatives: Leonardo Cruz Jr., Armando Esteban Cruz, Kimberly Cruz, Joel Lopez, Raquel Rivera, Shardae A. Magras, Gabriella A. Magras, the Gomez family, Brandon, Serena and Jonathan Concepcion, Raquel Felix-Hernandez, Miguel Felix Jr., Michael Angelo Felix, Margaret Concepcion-Alejandro, Jazmina Ponce, Jose Ponce III, David, Daviel, Kariss and Karielis Concepcion, Jessica Hernandez, Dalila Hernandez, Flor Concepcion, Zolymar Garcia and Junito Ezequiel Concepcion, and Emmanuel Concepcion; as well as other relatives and friends too numerous to mention.
Tributes will begin at 9 a.m. followed by a funeral service at 10 a.m., Wednesday, April 4, at Peter's Rest Seventh-day Adventist Church. Interment will be at Kingshill Cemetery.