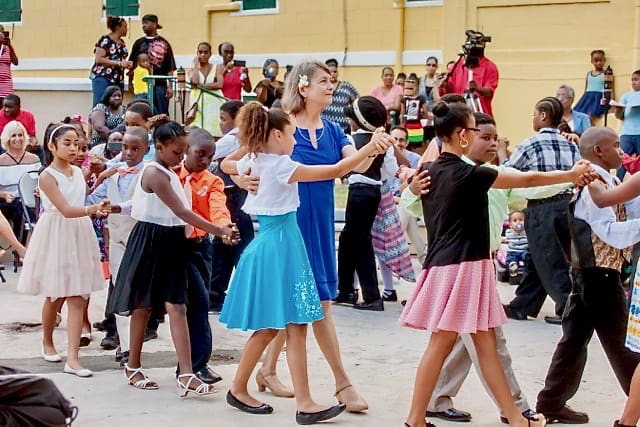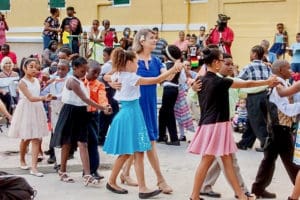 St. Croix fifth graders at Ricardo Richards and Claude O. Markoe elementary schools are learning to waltz. They've already studied the foxtrot, swing, rumba, tango, and merengue.
Next month, they will dress up and show-off their talents in a performance. It's part of their fifth-grade curriculum.
Students at Lew Muckle, Juanita Gardine, and Pearl B. Larsen elementary schools are putting on their dancing shoes now and will complete the 10-week, 20-lesson Dancing Classrooms program by early June.
These kids glean a lot more than fancy footwork – mutual respect, self-esteem, and teamwork, for example. That's the point. They look each other in the eye, and they treat each other with regard.
"Ballroom dancing puts social and emotional learning skills into practice. We work as a team; we practice communication, politeness, and respect," said Katie Zaytoun, executive director of Dancing Classrooms Virgin Islands (DCVI).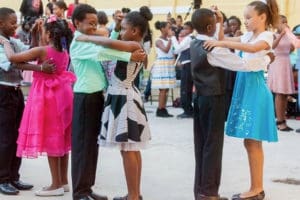 Launched on St. John in 2009, on St. Thomas in 2011, and on St. Croix in 2015, Dancing Classrooms aims to "cultivate essential life skills in children through the art of social dance."
By grooming these skills, the program breaks down cultural barriers. Dance partners change throughout the course; everyone dances with everyone else. If a student has a physical impediment or religious concerns, the teaching artists work with that. Everyone participates.
"At home, kids teach their parents the dance steps. So that brings the family together, too," said Zaytoun.
DCVI has provided the program to more than 4,500 Virgin Islands schoolchildren, and Zaytoun, onboard from the beginning, has taught 2,000 of these students herself.
Although Hurricanes Irma and Maria wreaked havoc on the program, Dancing Classrooms got "back on its feet" in February.
"We're back! We weren't sure it would happen," said Zaytoun. "We're grateful that the schools we work with have welcomed us back into their space and that we will work together to provide the program."
She emphasized that Dancing Classrooms is a partnership with the schools, that the principal in the building must want the program and involve the teachers. The teachers become invested, she said.
After the storms, one teacher told Zaytoun that Dancing Classrooms would supersede whatever else was happening, such as post-storm shortened schedules. We want to keep this tradition, the teacher declared.
Pierre Dulaine of the American Ballroom Theater Company developed Dancing Classrooms in 1994 as a not-for-profit project of his dance company. Its success inspired other cities to adopt the program, as did three films: the award-winning documentary "Mad Hot Ballroom," along with feature films "Take the Lead" with Antonio Banderas and "Dancing in Jaffa" which portrayed the implementation of Dancing Classrooms in Dulaine's birthplace.
Now more than 25 locations across the United States and in Jordan, Switzerland, Israel and Canada host Dancing Classrooms.
In Jaffa, Dulaine spent 10 weeks teaching Jewish and Palestinian Israeli children to dance and compete together.
Zaytoun expanded the Virgin Islands program to St. Croix with the help of Sarah Mahurt, commissioner of education under Gov. John deJongh at the time.
Mahurt had seen young students dancing on the dock in St. Thomas.
"I was blown away by the way the children carried themselves and by their poise," she said. "They looked into each other's eyes; they stood up straight!"
She wanted the program for Crucian kids, too.
After holding auditions for teaching artists on the big island, Zaytoun hired Krystal Hardy Flores and Barbara Walsh and sent them to New York for training.
Walsh was timid about teaching fifth graders, but she rose to the occasion.
"Dancing Classrooms takes the students from knowing nothing to performing on stage," said Walsh. "It was a transformation for me, as well. I was terrified of failure but then I saw the children actually respond to the program and to be proud of themselves and work together. They really do become young ladies and gentlemen."
Her occasional challenges: fist fights and kids hiding under desks or running out of the room.
When Walsh introduces a new dance, she and the students talk about the country where it originated and the capital city there. She brings out a globe and maps and talks about the history of the dance. "Swing is from New York City," she said.
As per the universal Dancing Classrooms program, Walsh connects the ballroom dances to other areas of learning; she ties the ballroom to the classroom. During the 10 weeks of dancing lessons, students complete a project related to what they've learned.
A student might write a fairytale that incorporates a dance. Another student might create a travel brochure about a certain dance's country of origin. Still another might design and sketch ballroom costumes. Science, math, language and art can all be assimilated into the projects.
Students showcase these projects along with the dances in their stage performance.
Walsh, who has lived on St. Croix since 1976, credits Dutch dancer Atti van den Berg-Bermudez as her inspiration for working with Dancing Classrooms. Bermudez ran Theater Dance on St. Croix and taught ballet and modern dance.
"Atti was fascinating. She had danced in Europe, doing very avant grade work. But she could dance any style, even as an older woman," Walsh said.
Bermudez brought in Caribbean dance teachers, had African drummers, and held improvisation classes. It was an eclectic scene.
"She produced shows at Island Center that included everything from primitive dance to court dances and the go-go," Walsh recalled.
Although Walsh had grown up on the California coast and was a skilled swimmer and cyclist, she had never taken dance lessons until she moved to St. Croix. One day in 1979, she saw a notice for ballet classes. The teacher was Cynthia Oliver, who was raised on the island and had been a star Bermudez student.
This fateful ballet class led to Walsh's dancing with Atti Bermudez and to an array of subsequent dance classes, both on St. Croix and in the States. Along the way, she encountered dancer Katie Zaytoun in a ballet class and then again in a salsa class.
"I never would have called myself a dancer. I had a business, was raising kids, and had aging parents," Walsh said.
Now, in the classrooms of 2018, Walsh and fellow teaching artists Krystal Hardy Flores and Valerie Geer teach a younger generation.
Zaytoun, a ballroom dancer and classroom teacher since her college days, wears many hats now. She likens herself to a Dancing Classrooms customer service rep who provides support and acts as an educational liaison. A former teaching artist with the program, she still steps in to instruct now and then.
She has added 8th graders to the St. Thomas program and will do so on St. Croix for the 2018-2019 school year.
The children's sense of accomplishment in Dancing Classrooms carries over to everyday life.
"If they can learn six dances in 10 weeks, this gives them confidence to take on other challenges," Zaytoun said.
Dancing Classrooms is a 501c3 nonprofit company. Grateful to have DCVI back on its feet, Zaytoun tips her hat to the Community Foundation of the Virgin Islands and the Fund for the Virgin Islands.
Dancing helps heal trauma, she said.