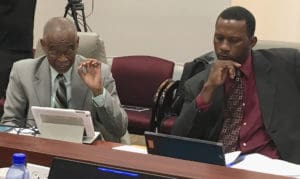 Damian Cartwright, assistant executive director of the V.I. Port Authority, told the VIPA board Wednesday that work is progressing on the taxiways, generators, lighting and the baggage claim at the Cyril King Airport, and that roof repairs to the Henry Rohlsen Airport should be completed by the end of April.
He added that work on St. John facilities "is definitely a priority."
Repair and reconstruction projects, many necessitated by Hurricanes Irma and Maria, continue at the marine and aviation sites on both islands. Parking lots at Red Hook and the Enighed Pond Work are being repaved and construction has started up again on the Gallows Bay Dual Purpose Arrival Facility.
"We've been waiting three years for the Army Corps of Engineers. They say they believe they are satisfied," Cartwright said.
Cartwright also said VIPA plans to meet with the new management at the V.I. Waste Management Authority to continue work begun last July on closing the Anguilla Landfill, as required by the Federal Aviation Administration.
Also during Wednesday's monthly meeting at the Rohlsen Airport, VIPA Chief Financial Officer Anna Penn reported the authority earned operating revenues of $9.1 million and incurred operating expenses of $11.6 million as of December 2017. Operating revenues were below budget by more than 35 percent and operating expenses were below budget by 28 percent. VIPA total assets are $165 million.
VIPA Property Manager Deborah Washington discussed accounts receivable and staff collection efforts. Corporations owing more than $100,000 are American Airlines, Seaborne VI, the Department of Planning and Natural Resources, the TSA, JetBlue Airways and VI Waste Management.
According to Washington, American Airlines has disputed invoices and VIPA accounting staff are in the process of reconciling the bills. Washington said, "collection efforts are still ongoing" with Seaborne VI, which filed Chapter 11 bankruptcy in January, the TSA and JetBlue. An agreement with DPNR to deal with more than $800,000 in fees is in the works and VI Waste Management disputes that it owes more than $200,000.
The board voted to approve new leases for Bohlke International Airways, Inc. for 25 years; the USAF Hurricane Hunters for five years; and Neltjeberg Bay Enterprises, LLC for three years.
A request by Miami Cars, Inc. to waive finance charges was held for further discussion.
The only defeated motion was presented by Marvin Forbes, a board member from St. Croix, to hire a third party to conduct annual compliance reviews of the authority.
"The majority of the members see a need to have a compliance entity, external to the Port Authority," he said.
Executive Director David Mapp said he believed the issue was brought up because of a "whistle blower" letter to the FAA last year, which resulted in "no finding of fact."
Board members Jose Penn and Yvonne Thraen suggested polling the staff and trying to avoid a redundant layer within the agency.
"I have significant concern with a third party instead of staff accountability," Beverly Nicholson-Doty objected, recommending assessing a possible "gap" in functions.
New board member Lee Steiner said he's seen "a lot of issues and a lot of issues turned back to compliance."
He recommended an unbiased party to render an audit rather than a compliance consultant.
In the end, Forbes and Steiner voted in favor of outside compliance oversight and the other board members voted against. Attorney General Claude Walker abstained.
Also attending the meeting were board members: Laurel Hewitt-Sewer, chair, and Nelson Petty through videoconference.