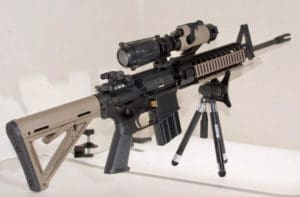 Many V.I. public and private schools are planning to join in a peaceful student-led protest against gun violence Wednesday.
The walkout is part of a national movement to honor the victims of Feb. 14's high school shooting in Parkland, Fla., the most recent in a long list of mass shootings in the U.S. The pace at which new mass shootings occur has been accelerating.
Students have been outspokenly pushing for restrictions on the sort of military style weapons used in that and other massacres, including the AR-15 assault rifle and "bump stocks" that create an automatic fire effect, skirting the technical definition used to ban private sale of machine guns.
Both those changes have support from large majorities of Americans but Congress has not taken any such action and President Donald Trump, who has given conflicting opinions on many aspects of the gun issue, has never called for a ban.
The #NationalSchoolWalkout, spearheaded by EMPOWER, the youth branch of the Women's March group that organized women's marches against President Donald Trump across the country, calls for students, teachers, school administrators, parents and allies to take part in a for 17 minutes at 10 a.m. across every time zone on March 14, 2018 "to protest Congress' inaction to do more than tweet thoughts and prayers in response to the gun violence plaguing our schools and neighborhoods," according to EMPOWER.
Some jurisdictions have tried to crack down and prevent the walkout and others have been more supportive. In the USVI, both Gov. Kenneth Mapp and the Department of Education support the walkout.
"We commend our students' desire to exercise their First Amendment right to protest as they stand in solidarity with the survivors of the Valentine's Day massacre. The Department views this as an opportunity to teach valuable life lessons about government, citizenship, gun control and school safety," Education Commissioner Sharon McCollum said in a statement Tuesday.
Mapp said he supported students who elect to peacefully exercise their First Amendment rights on this issue.
"Sadly, gun violence has become a reality our young people, in particular, must face as victims and witnesses to tragic school shootings, whether in their neighborhoods or on their campuses," Mapp said. "It's important that we cultivate civic responsibility amongst our youth and an obligation to the common good is an important part of civic engagement. Students across the United States are standing up on Wednesday for what they believe in and I stand with the students in the Virgin Islands who choose to do the same," he continued.
The Department will provide supervision to ensure the safety of the students during this demonstration.
Virgin Islands Montessori School and Peter Gruber International Academy (VIIMSIA) also is looking forward to participating in the National Student Walk Out.
ABC's Good Morning America has confirmed that out of the 2,500 school participating, VIMSIA will be one of five schools streaming a live feed in Mountain and Central time zones. B-roll has been prepared for the Eastern time zone. The school will broadcast a live feed beginning at 9:40 a.m. and ending at 10:40 a.m.
Antilles School on St. Thomas also is participating.
At Antilles the organizers of this movement are Serena Mohanani and Jacques Liegeard, two juniors who heard about the "walkout" on social media. Inspired by the message and how fast it spread both nationally and globally, they brought the idea of participating to their classmates and subsequently the rest of our Middle and Upper School. Within just a few days, they had engaged most of their peers, teachers, and the school's staff.
"Originally, we were going to do something quiet, more silent, to pay our respects, but that's really what the students at the [Marjory Stoneman Douglas] high school in Florida want," Mohanani said. "They want us to do something intellectual, and to take a stand and get noticed by all of those members of Congress, the lawmakers, who can actually do something about gun reform. Because really, people always say, this couldn't happen to our school, or to a school like us, but the truth is, it can happen anywhere, to anyone, at any time. That's why it's important that we get involved now and do as much as we can to stand in solidarity with this school, and the schools now around the world, that are calling for reform," she said.
"Other schools here are being blasted for supporting a movement that they are claiming is not an issue on St. Thomas, and parents are calling this a 'silly event.' While I do agree we may not be fighting for gun safety for our own school, we are supporting our peers at all other high schools in the states and around the world who do in fact need stricter gun laws in their schools. We are fighting for a change to be made in America in general – it doesn't matter where they are, there are students who need the help and hopefully in some way we can make a difference," Mohanani continued.
According to Antilles School spokesperson Ananta Pancham, this is a 100 percent student led effort, "and we're extremely proud that ours, without hesitation, have identified this cause as something that matters deeply to them."