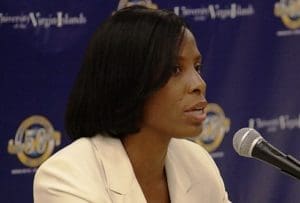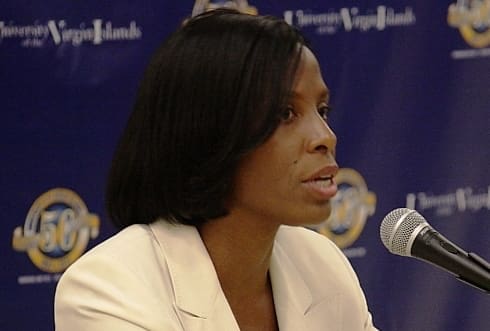 *Updated*There was a muted mea culpa offered this week at a hearing by a Congressional subcommittee held on St. Thomas. The hasty removal of the sick could have been handled better and, one officials said, would be the next time around.
At Monday's public hearing one official tasked with transporting patients described a situation plagued by confusion and said, "there will always have to be improvement."
That comment by Health and Human Services Emergency Coordinator Murad Raheem to Congressman Blake Farenthold came when discussions before the House Subcommittee on the Interior, Energy and the Environment turned to the subject of medical evacuees.
Farenthold chairs the subcommittee. Virgin Islands Delegate to Congress Stacey Plaskett (D-VI) is the ranking member.
Evacuation took 682 Virgin Islanders off island after the passage of Hurricanes Irma and Maria, among them, more than 250 patients needing kidney dialysis. Some among them have described harrowing conditions experienced. Some have died.
The hearing took place Monday on St. Thomas in the chambers of the V.I. Legislature. Congress members and their staff came to hear about impacts from and management of naturalx disasters from the 2017 Atlantic Hurricane Season.
Without making a direct reference HHS's Raheem alluded to situations where patients and medical records did not follow the patient.
"Clearly the last one … those evacuations occurred on a very emergent basis," Raheem said. Because patients are being moved in haste responders "don't always get all the details collected at the moment."
The relative of one evacuee submitted written testimony about her family's ordeal. Former V.I. Senator and Education Commissioner Ruby Simmonds Esannason spoke about the death of her son-in-law, V.I. Police Sgt. Aaron Hodge, 46.
In doing so, Esannason invoked the names of others who had met similar fates.
In her testimony, which Plaskett referred to at the hearing, the former lawmaker asked how and why.
"This is but a small sample of persons who died away from home, away from loved ones after having been taken from the Virgin Islands by FEMA. The stories of lack of communications with family, of patients being lost, of persons being evacuated without their medication, or proper identification, or without a change of clothing are very much the same," Esannason said.
Mistakes were made, Raheem said, but as a new hurricane season approaches, if a weather emergency occurs, protocols will be in place.
"Obviously this is after the fact. After this current season, if that need arises again, using that established (information technology) systems in conjunction and coordination with the (Virgin Islands) Department of Health is a critical planning factor," he said.
Richard Motta Jr., a Plaskett spokesman, said the delegate wanted to raise the handling of medical evacuees as one of the subjects covered on Monday. The reasons, he said, is because constituents have been calling her office and approaching her in public settings to lodge complaints.
One complaint left outstanding is the number of Virgin Islanders who have returned home after being sent away as part of the disaster response.
"This is one of the questions we've been trying to get answered. We've been pressing FEMA for those answers. That's an answer that we've been looking for as well and we've requested that in writing," Motta said. "We've received quite a few complaints from constituents. I know it's something the delegate has been interested in and that's one of the reasons why she asked the question in a subcommittee hearing, so she could have it entered into the Congressional record."
Editor's note: This story has been modified to remove an assertion that could not be verified.