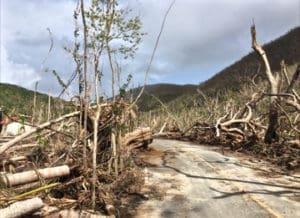 The U.S. Army Corps of Engineers announced this week it will complete collection of vegetative and construction/demolition debris from roadside rights-of-way in St. John and St. Thomas on Friday, March 15, and completed pickup on St. Croix on March 7, it announced in a statement Monday.
Meanwhile, Democrats in Congress are asking President Donald Trump to extend the time period the federal government will pay the full cost of removal.
The Army Corps of Engineers has committed to removing all the debris, but the federal government committed to paying 100 percent of the cost for debris removal. Public debris removal and waste clean up work related to Hurricanes Irma and Maria will be 100 percent reimbursed through FEMA if corresponding departments provide the necessary reporting before March 20. After that date, any more debris removal will be paid for 90 percent by the federal government and 10 percent by the V.I. government. The V.I. government is strapped for cash and already behind on paying a number of vendors, retiree pension contributions, utility bills and other non-payroll expenses. As a result, even a 10 percent cost share may be difficult to meet.
The Army Corps said it will oversee reduction and transport of all vegetative debris for disposal. There had been plans to burn the debris but at the urging of some residents concerned about the environmental and health impacts, the Legislature banned government burning of debris. Private burning remains legal.
"At the request of the territorial government, vegetative debris will be transported to a disposal location either in or outside the continental United States. The vegetation will be reduced to a size and disposition required by the receiving facility," federal officials said in the statement.
Non-vegetative debris, such as construction waste, is also being removed, according to past statements from Army Corps officials.
Recently, Democrats in Congress urged Trump to extend the federal cost-share for debris removal and emergency protective measures for the U.S. Virgin Islands as a result of the damage after Hurricanes Irma and Maria, according to Delegate Stacey Plaskett (D-VI.)
"Today, ranking member of the House Committee on Transportation and Infrastructure Peter DeFazio (D-OR) and ranking member of the House Committee on Homeland Security Bennie G. Thompson (D-MS) sent a letter to President Donald J. Trump urging him to extend the Federal cost share for debris removal and emergency protective measures for the U.S. Virgin Islands as a result of the damage after Hurricanes Irma and Maria," Plaskett said in a statement.
Plaskett emphasized the volume of debris and the difficulty the small island territory faced in disposing of it.
"The debris build up on the U.S. Virgin Islands left by Hurricanes Irma and Maria has reached devastating heights," she said.
According to Plaskett, roughly 870,726 cubic yards of storm debris, 5,950 bags of medical waste, 69 pounds of refrigerant, 1,525 propane tanks, 14,464 batteries and other waste products have been collected.
"This vast amount of debris has greatly exacerbated waste disposal issues," Plaskett said, adding that both V.I. landfills were already nearly full and scheduled for permanent closure in accord with court ordered consent decrees.
"An extension of the cost share is warranted as certain debris must be moved off island and this entire process has been outside of the USVI's control. The territory should not have to pay a cost share because the federal government did not complete its job in a timely manner," Plaskett said.