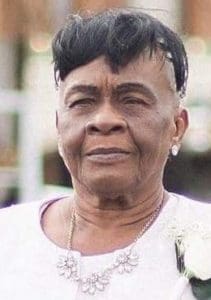 Pearline Elizabeth Ferdinand, also known as "Mother Ferdie," of Estate Strawberry died on Thursday, Feb. 8.
She is survived by her daughters: Delores Parrilla and Renee Ferdinand; sons: Samuel Ferdinand, Leroy Ferdinand, Donald Ferdinand and Eustace Ferdinand; adopted daughters: Hyacinth Greenaway and Melanie Lindsey; 37 grandchildren; 45 great-grandchildren; sisters: Cynthia Warner and Delores Daley; brother, Thomas Benjamin; and daughters-in-law: Myrna Ferdinand and Karen Ferdinand.
She is also survived by sons-in-law: Roberto Parrilla Sr. and George Allen; godchildren: Joshua Maillard and Cristina Dawson; special friends: Aunty Maillard and family, Sister Fenton, Sister Morton, Home League family, Bethel Deliverance family, Fyfield family, Brother Steve, Pastor Estrada, Pastor Ventura, Sister Jules, Gwenneth Richards and Suzetta; nieces, nephews, godchildren, and other relatives and friends too numerous to mention.
The family requests that those in attendance wear shades of purple.
The viewing will begin at 9 a.m. to be followed by the funeral service at 10 a.m., Saturday, March 3, at Miracle Revival Center, Beeston Hill. Interment will be at Kingshill Cemetery.