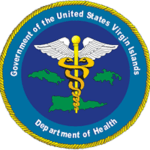 The V.I. Department of Health (DOH) launched a Community Mobile Clinic Program that includes training for local religious organizations. By partnering with clergymen in under-served communities and training them on how to refer patients, DOH will extend needed healthcare to residents who might otherwise be missed with the traditional referral process.
One hundred and twenty (120) clergy attended the training event, which took place today, 4-6 p.m., Friday, Feb. 23, at St. Croix Christian Church. Pastor Gary Moore hosted the event together with Pafford Emergency Medical Services (EMS).
"Because local clergymen know the ailments of their members, they are in an ideal position to identify and connect congregation members who are in need of healthcare, which has the potential to be life-saving, improving the quality of life for our residents. Through this community partnership, we will also be able to do outreach by taking the DOH's mobile medical van into the community," said Jackie Greenidge-Payne, DOH's paramedic training officer.
Currently, the Mobile Integrated Healthcare (MIH) Program's main focus is on patients with wound care, congested heart failure or diabetes; diagnosis of chronic diseases; and inter-facility transport. Recent geo mapping of the current MIH Program showed gaps in reaching chronically ill patients in communities like Eastend, South Shore and La Valle.
Through further analysis, "We realized that our target was mainly located within the Frederiksted area and those patients are chronically ill," said Greenidge-Payne.
Gov. Juan F. Luis Hospital and Medical Center (JFL), Herbert Grigg Home for the Aged and the Department of Human Services (DHS) are referring these patients. Many were also frequent and repeat patients from Emergency Medical Services (EMS).
MIH also aims to address gaps in the healthcare system by referring patients to a healthcare home with its own private primary care physician.
"In doing our assessments, we basically realized that there were areas not being covered, and this is the solution to fixing it," said Greenidge-Payne.