While most senators said Monday night that Gov. Kenneth Mapp's fourth State of the Territory Address was "hopeful," many also said that the speech did little more than recap the administration's past three years, give an update on hurricane recovery efforts and say "thank you" to government workers for their efforts in rebuilding the territory.
More details, they said, were still needed in the areas of education, health care, housing and saving the territory's pension system, among other things.
"The optimism is good, but we now also have to hold him accountable," Sen. Kurt Vialet said after the speech. "The Senate needs to make sure that we hold the governor's feet to the fire and have the type of meetings where we can get the information needed to make sure we keep moving forward."
Education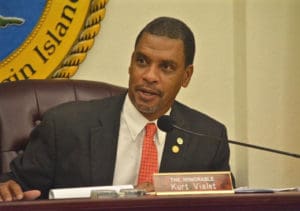 In his speech Monday, Mapp said that an in-depth analysis has been conducted on the loss of and damages sustained to 11 public schools in the territory. The government is working with the Federal Emergency Management Agency on approving more than $800 million to rebuild the schools, but in the meantime temporary modular units and "sprung shelters" have been ordered in hopes of getting the 2018-2019 started on time.
After the speech, many senators said they were skeptical about the timeline and concerned that the governor didn't lay out a "clear plan" for getting the schools back online and students out of double session.
"I wanted a bit of specificity," said Vialet, a former public school principal. "There was no date of when the modular units will be here and I was a bit surprised to hear there was an in-depth analysis, because we had an Education hearing last week with the commissioner and they were unable to provide any documentation or any projection of when the units would be coming to the island or what the analysis was."
There is a window of time between when the modular are ordered and installed, and there is still a lengthy preparation process that Mapp didn't talk about, Sen. Tregenza Roach added.
"You have a window between ordering, where the units have to be built and they have to be transported here and they have to be installed," Roach said. "In the meantime, you have to prepare the sites on which you put them, because you may find issues that you don't expect. Right now, I can't reconcile what the commissioner presented to us last week and what was said tonight and be hopeful that everything is going to fall in place between now and when school starts again in August."
Health Care and GERS
Using recovery guidelines set for FEMA under the Stafford Act, the government is also working on the approval of $800 million to replace both of the territory's hospitals, which were severely damaged in September.
Mapp said Monday that the territory, in talks with the federal government, is focused on making the push for smaller facilities moving forward, but senators said Monday night that they still don't have any details on short-term plans for temporary care units or when patients evacuated for off-island care will return.
"There are still no modular units on the ground," Senate President Myron Jackson said Monday. "In September, we talked about smaller hospitals, but we still haven't had time to sit down with the governor or the Health Department to discuss this vision. I understand the concept, but I would have liked to see by now that we have a plan of action and, in real time, know when those modular care units are going to land on each island."
Discussion by the governor about the Government Employees' Retirement System was also a sore spot for senators, who said that the governor spoke last year about passing reforms but still hasn't pushed for a solution other than putting out a call Monday night for more informed board members.
"The governor said in 2017 that he would send down a package of legislation that would be necessary to save GERS and that would be done by March 2017," Roach said. "So when I hear him say tonight that he wants to improve and save the system, I can't take what he says very seriously because he hasn't followed through and it doesn't seem like he speaks from a place of understanding about how critical this situation is."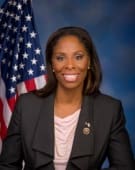 Delegate Stacy Plaskett added Monday night that the pension system's financial issues also can't be blamed solely on bad investments.
"There were a lot of unfunded mandates and for a long time, the government didn't pay its share of contributions into the system," Plaskett said after the speech. "That's part of why the federal government won't lend us money, so right now, we have to make some tough decisions on the retirement system. They are looking for what we have done internally to prepare for a bad situation for our retirees."
Housing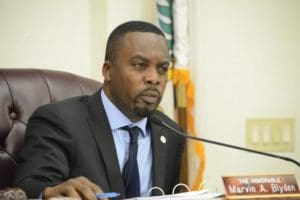 The governor spoke about need for more public housing options in the territory and referenced a 2015 V.I. Housing Finance Authority study that shows the need for a long-term plan for growing the local housing stock. While Mapp added that he has plans to meet with the assistant secretary of Housing and Urban Development to discuss the territory's situation, senators said Monday that the government should have a plan now, especially when it comes to providing housing for residents displaced by September's hurricanes.
"The governor mentioned that he is going to work on emergency housing, but we really need to be serious about it," said Sen. Marvin Blyden, who, along with Jackson, has engaged a stateside housing consultant to talk about a potential housing plan. "The governor spoke about FEMA providing money to build roofs for residents in the territory, which is great because those efforts will employ a lot of Virgin Islanders, but we need short-term emergency housing for our people. As a leader, it's unacceptable to me that there hasn't been a plan put in place yet."
Recovery and Infrastructure Building
Talks about housing was also a sticking point for Jackson, who said the governor's recovery efforts should take a more comprehensive look at infrastructure building and finally pass a land and water use plan that focuses on "smart city planning," which would help the territory rebound faster from natural disasters.
"Those kind of long-range planning goals are what I would have liked to hear more about," he said. "I would like to see a clear approach on how we move forward with a land and water use plan. It is time now, more than ever with the impact of these two hurricanes, when we talk about resiliency and building stronger, to really look at how we develop."
Jackson said smart planning could help replenish the temporary housing stock by engaging property owners, while the rebuilding of historic towns according to a plan would cut down on abandoned buildings that pose a threat during natural disasters.
"I didn't get a sense that we're doing any of that," he said. "The governor talked a year or two ago about Disney coming in with a proposed plan, but we haven't heard anything since then. There's also a concern about roads, and getting them fixed, that could also be addressed through these kind of planning efforts, where we don't just patch but engineer so we don't find ourselves again in the situation we're in now."
Sen. Neville James added later that part of rebuilding the territory's infrastructure includes engaging hotels that were damaged in September.
"All of our major hotels still need to be rebuilt," James said. "We wanted to hear if had met with stakeholders in the hotel industry because there is no work going on at Marriott Frenchman's Reef or Divi Carina Bay, and many of these hotels also have Economic Development Commission tax benefit extension requests that are on the governor's desk to be approved. It's important that he concentrate on all of those revenue streams to make sure we don't lose any."
Looking Forward
While the governor spoke at length Monday about ongoing hurricane recovery efforts, Sen. Dwayne DeGraff said after the speech that looking forward, he did not get a sense of what the government's financial position is outside of federal aid. The governor spoke, for example, about a salary increase for new police officers – up to $40,000 – but questions remain about whether the territory is in the financial position to sustain it, he said.
"Without the hurricanes and what we've gotten from FEMA and the federal government, would we be able to sustain ourselves?" DeGraff asked. "I'm talking about meeting payroll, paying collective bargaining agreements, that sort of thing. We're in the 2018 budget, but we don't have any sense of what we're doing and how we're meeting our obligations, and I would have liked to hear more about that. I mean, $40,000 for new police officers is great, but you can't offer an increase like that without doing it across the board. You have to pay everybody up the chain, and while that sounds good on paper and in theory, do we have the money for it? Because the only time I've seen the governor generate money in 2017 is with taxes."
Plaskett cautioned afterward that the governor should also keep his eye on how the recently passed Republican tax bill would impact the territory.
"He didn't talk about it at all, but the bill has tremendous consequences for our revenues," the delegate said. "We're talking about corporate and individual tax rate decreases that could bring in $200 million less for the territory, so we have to ensure that we are doing all that is necessary to try and hit Treasury and change regulations so that the law doesn't have as much of an impact."