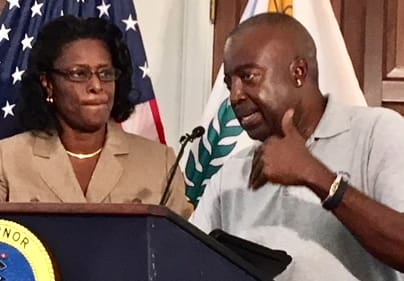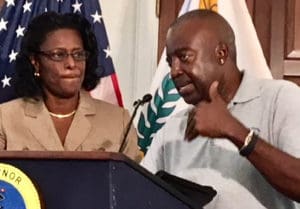 V.I. Territorial Emergency Management Agency's Director Mona Barnes received a tsunami advisory at 10:59 Tuesday night, but due to "connectivity" Virgin Islanders were not alerted until after midnight.
The V.I. Alert that reported the advisory was issued at the same time it reported the advisory had been cancelled.
Stateside friends and neighbors learning of a large earthquake in the Caribbean alerted some residents before the island residents received VITEMA's notification.
Barnes said at a news conference Wednesday at Government House that internet connectivity had not been re-established at the home of the individual who should have issued the advisory. The person drove to VITEMA headquarters in Christiansted to send the alert.
"I activated essential personnel automatically," Barns said, after receiving the 11 p.m. call. The team gathered at VITEMA and received updates every 10 to 15 minutes from the Pacific Tsunami Center, she said.
VI Alert issued its only notice at 12:40 a.m. by text and email to subscribers, according to Barnes.
The advisory was issued by the Tsunami Center in Hawaii after a 7.8 magnitude earthquake struck the western Caribbean shortly before 10 p.m. Tuesday evening. The epicenter of the quake was 202 miles north-northeast of Honduras and about 190 miles southwest of the Cayman Islands, at a depth of 21 miles. There have been no reports of injuries from the quake, which was felt as far north as Florida.
Barnes stressed that the advisory was not the same as a tsunami warning and meant there was a potential for waves, less that one foot in this case, arriving around 1:47 a.m. A warning would have indicated the expectation of widespread flooding and damage.
The territory would have been less than well prepared even if there had been imminent danger. Barnes said none of territory's 42 tsunami sirens are working and people would have had to rely on police sirens, bullhorns and flashing lights to become aware of impending disaster.
Police Commissioner Delroy Richards said the VIPD was prepared to take over the warning responsibility if needed.
The sirens were installed from 2011 through 2017 with a $1 million federal grant. In 2014, NOAA declared the territory "tsunami ready," in part because of those sirens. It is unclear why the sirens are so vulnerable to storm damage that all of them are nonfunctional.
Barnes did not indicate when three sirens will be replaced and the rest repaired.
Although the area is prone to seismic action, Lt. Gov. Osbert Potter pointed out the last tsunami was in 1867 and there has never before been a tsunami advisory issued for the territory.
The 1867 tsunami killed about 30 in what were then known as the Danish West Indies. (See: "The Terrible Earthquake and Tsunami of Nov. 18, 1867" in Related Links below.) The 2004 Indian Ocean tsunami killed almost 230,000 people in 11 countries.
Potter said he received many phone calls from "confused" and "panicked" residents but that "VITEMA acted in appropriate fashion."
Barnes and Potter also talked about tsunami safety and said residents should be aware of the elevation and history of flooding where they live and work. Also, everyone should have a family plan and know where evacuation routes, safe areas and shelters are located. Barnes said households should have supplies for three days and up to two weeks.
According to Barnes, free Tsunami maps are located at the VITEMA offices, several gas stations, all Plaza Extra supermarkets, Cost U Less as well as Starfish Market on St. John and Pueblo on St. Thomas.
"If you feel your chandelier shaking and the building starts moving, go to a higher area," Barnes warned Virgin Islanders.