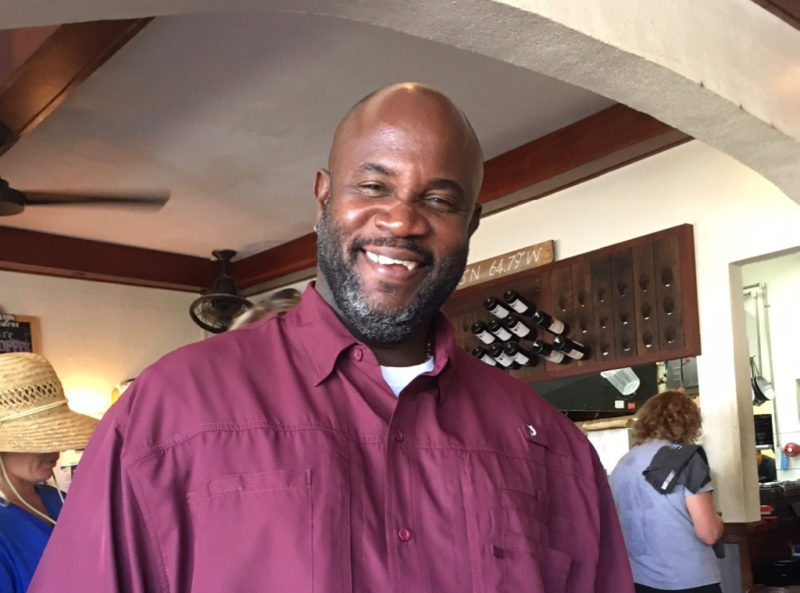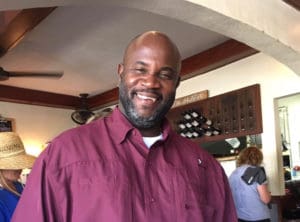 Businesses at the Marketplace in Cruz Bay got full phone, Internet and cable service on Tuesday, one of the few areas on St. John to be fully "lit" by Viya.
Antonio "Pumpkin" Lewis, Viya's manager of outside plants, said this week crews will activate the "node" that provides service to a section of Cruz Bay from the post office to Gallows Point.
The week after Christmas, crews will begin working from the top of Lind Point to provide service to Mongoose Junction and other areas of Cruz Bay, he said.
As utility poles have been replaced and electricity has been restored to many parts of St. John, residents have been wondering why phone, cable and internet service have lagged so far behind. In October, Lewis said he expected Viya crews to follow about a week behind WAPA crews as they restored service.
At the Wednesday morning community briefing, Lewis gave several reasons for the delay.
"We took much more of a hit than we thought," he said. "We got the T1 and fiber optic cables up, and we thought we were back. Then we realized what we thought was 30 percent damage was really 100 percent damage."
Lewis said their initial attempts to repair and not replace all the equipment would have caused problems down the line.
"We could have given you crappy service two weeks ago, but we're trying to do it right. Travis and I are perfectionists."
Minutes earlier in the meeting, Lewis introduced Travis Rogers, his "right hand man," as the new group leader for St. John. Rogers will have a full-time presence on the island while Lewis continues to have oversight responsibilities on St. Thomas and St. Croix.
Unlike WAPA, Viya is just now getting assistance from crews from off island.
"Our outside crews were bumped off the boat," he said, referring to the trucks and other equipment that were delayed because of logistical problems but were now slowly starting to arrive.
"Some came to St. Croix, where things are going smoother than on St. John," he said. "One crew arrived on St. Thomas last week. One came in yesterday."
Lewis said three of the ten crews bound for St. Thomas and St. John would be deployed to St. John.
"We're trying not to fight too much for pole space with WAPA," he said.
Lewis predicted that 90 percent of the island would be connected by February.
"Once we get the trucks, we can go," he said.
ATN, Viya's parent company, was bearing the cost of the repairs, he added.
Recent advertisements placed by Viya invited St. Thomas customers to apply for a lottery to acquire a wireless router that acts as a mobile WiFi hotspot, known as MiFi. When asked why St. John residents could not apply, Lewis explained their use depends on cell towers, all of which were damaged on St. John.
"We're trying to work with AT&T to get the cell tower in Susannaberg up," said Lewis, who explained that AT&T's service is linked to Viya's fiber-optic cables.
AT&T cell phone customers on St. John saw major improvement in service in the last ten days. Bordeaux Mountain resident Beth Knight said she saw crews working on cell towers in the area on Dec. 9. When she looked at her phone the next morning, she had five bars of service.
Knight said her joy was dampened as service fluctuated over the next week, but her cell signal is now coming in strong once again.
Kelly Starling, who handles media relations for AT&T in South Florida and the Virgin Islands, said in an email, "Service on St. John has been completely restored and we are continuing to permanently restore sites throughout the island that are supported by our Cell on Wheels (COWs)."
Starling said AT&T was processing even more traffic since the storm and was focusing on adding capacity to the network throughout the island.
"The lack of commercial power continues to be our biggest challenge and as restoration improves, customers should expect an improved experience."
AT&T customers on automatic payment plans who received their regular bills, although their service was affected by the hurricanes, will see a credit posted in the next two or three billing cycles, she said.
Shared content for Virgin Islands Source and St. John Tradewinds.