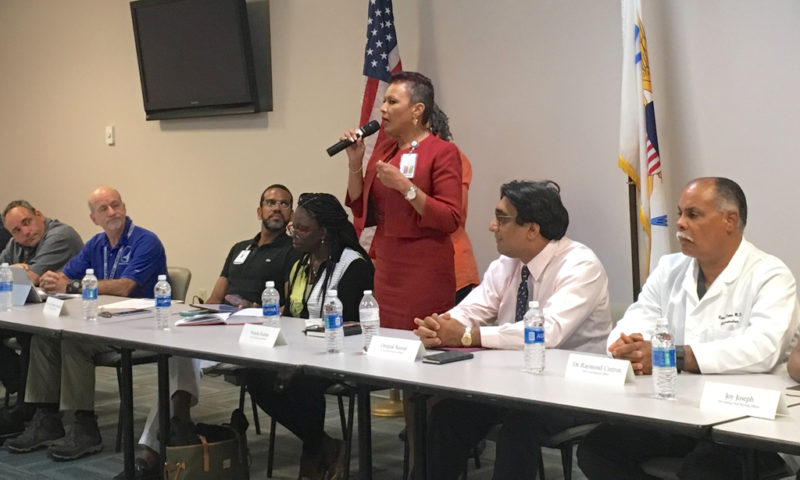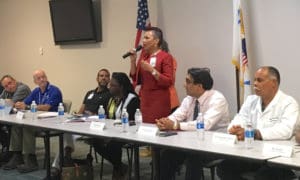 There will be no "home for the holidays" for Virgin Islanders evacuated off-island for medical care after the pair of September hurricanes, Health and Human Services officials reported Friday at hearing of the Senate's Committee on Health, Hospitals and Human Services.
The panel called officials to testify on the status of public hospitals and clinics three months after the passage of Hurricane Irma on Sept. 6. Committee Vice Chairman Kurt Vialet said his office is getting calls from evacuated patients, pleading for return.
Assistant Health Commissioner Ruben Molloy, who appeared at Friday's hearing in place of the invited testifier, Health Commissioner Michelle Davis, said there was no plan that could bring patients home in time for Christmas. Molloy also admitted there was no plan in place to return the remains of medical transferees who died since leaving the V.I.
Molloy said a dozen patients have died since being taken off island by emergency responders. In an interview last week, Davis reported the number was 13.
The testimony comes at a time when the Federal Emergency Management Agency announced a 30-day extension for covering the cost of moving sick and injured patients in need of continuous care off island. Prior to Friday's hearing, Health Committee Chair Sen. Nereida Rivera O'Reilly estimated each evacuation flight cost between $8,000 to $13,000.
Wanda Reuben, chief executive officer of the Juan Luis Hospital, said those taken off island cannot return for Christmas or any time in the foreseeable future. Damage to hospital facilities has not been addressed yet, she said. If patients suffer complications while undergoing treatment they cannot stay in the damaged hospitals and may have to be evacuated again.
There is also the question of where patients would go after receiving dialysis. If their homes or other dwellings suffered storm damage, they too are considered unsuitable.
"We have to look at these patients as a whole, not just as needing dialysis on top of dialysis services," she said.
In the immediate aftermath of the twin Category 5 hurricanes, members of the Mapp Administration throught there was a temporary fix on the horizon. They considered the prospect of setting up modular units to provide hospital care.
Reuben told committee members they later found out that option might jeopardize continued eligibility for federal health insurance reimbursements.
Neither the Center for Medicare and Medicaid Services nor the Joint Commission for hospital accreditation deemed modular hospitals acceptable.
O'Reilly said she thought the latest strategy proposed was to put together a combination of medical tents and semi permanent modular structures. But Molloy told the chair the modular hospitals were also considered as tents by CMS and JAYCO.
At which point it became increasing clear to Senate committee members that the Virgin Islands has no viable solutions that would allow medical evacuees to come back come for continuing care.
St. Thomas-St. John District Senator Jean Forde asked Reuben and Schneider Regional Medical Center Chief Executive Officer Bernard Wheatley how long they expected the Federal Emergency Management Agency to provide funds to support off-island care for hundreds of medical evacuees.
Their answers differed.
"At what point will FEMA stop paying the cost of the evacuees?" Forde said.
"To the best of my knowledge, I was told that is continuing, until they return. There is no cutoff date," Wheatley said.
"I was told it was two years," the JFL chief said.
Senate President Myron Jackson said he was disappointed by the local response of the Health Department in terms of their day-to-day engagement with patients sent abroad.
"We have lost track of patients, and I think the most disheartening of this has been the lack of communication. Virgin Islanders away from home say they were abandoned, or they say they feel they were abandoned. Is this true or false?" Jackson said.
Then the Senate president called on testifiers to describe their efforts to find out how the evacuees were doing and which officials were taking part in a weekly conference call where their status was discussed.
Human Services Commissioner Felicia Blyden said her agency had a representative in contact with those sent to Atlanta.
Reuben said JFL had a dialysis outpatient coordinator who kept track of St. Croix patients sent to Atlanta and participated in the weekly call.
Wheatley said the dialysis unit at Roy L. Schneider Hospital was back in operation on a limited basis and was currently treating seven patients, but did not know how soon it could expand its capacity. Patients from St. Thomas-St. John district were also calling RLSH and the CEO said he was accepting calls and trying to answer their questions.
Molloy, from Health, could not respond with specifics.
"The system isn't perfect and we will improve. The commissioner has been engaged. We will do better," he said.