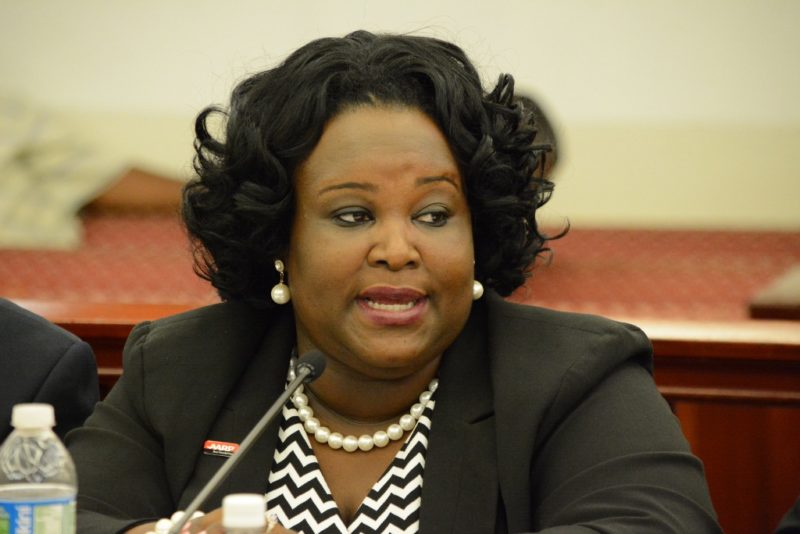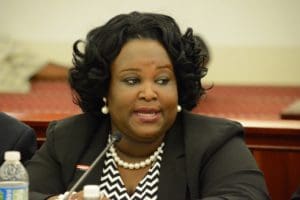 Most Virgin Islands senators at the Committee on Finance hearing Wednesday were satisfied with the deal being struck between the government and Cigna for health insurance for government employees.
Beverly Joseph, chairperson of the Government Employees Service Commission (GESC) Health Insurance Board, testified the government had selected "a 4.4 percent overall increase for all health insurance coverage combined (including dental) based upon the existing cost share arrangements between the government contributing 65 percent of premium costs and its employees and retirees contributing 35 percent of premium costs."
Gov. Kenneth Mapp had recommended that the government contribution share be cut to 60 percent for employees and 50 percent for retirees. He has insisted that Cigna did not require that the employee-government split remain the same.
Joseph has said that Cigna wanted the split to remain as it was.
If the split changed the employee contribution would go up significantly while the government could make a $21 million dent in its looming deficit.
One reason for senators' satisfaction was Cigna's original rate-hike proposal was much higher – 15 percent.
Employee contributions will go up from $132 to $138 for an individual plan per pay period. Employees with family plans will have their health insurance contributions go from $233 to $245. If the original proposal of 15 percent went through the individual plan increase would have been to $154 and to $270 for family.
The Mapp proposal lowering the government contribution would have raised the individual plan to around $162 and family plan deduction to $286. (When this writer worked for the Virgin Islands government in 2013, his pay period deduction for the family plan was $169.)
Sen. Brian Smith wasn't satisfied. He pointed out that most government employees' salaries are not going up while the cost of living was going up by about three percent every year. With those figures in mind he asked about the request for a 15 percent increase.
"Doesn't it trigger in someone's brain that the request is outrageous?" he asked.
Sen. Positive Nelson agreed, saying that in the original proposal it seemed that Cigna was "gouging" the Virgin Islands.
Smith added the estimated $160 million the Virgin Islands government gives Cigna is "a whole lotta money" and should give the government "significant negotiating power."
Sen. Dwayne DeGraff followed up that line of questioning by asking Kurt Gehring, chief executive officer for Gehring Group, if the government was in a position of power in negotiating.
Gehring, whose consulting group was involved this year for the first time in negotiating rates for the Virgin Islands government, answered, "Yes." He continued, "Knowledge is power."
Smith also was not satisfied with what he called an "11th hour" submittal" of the proposal to the legislature.
Joseph stated that the process began in mid-April with the board reviewing renewal proposals from its insurance carriers based on claims experience through March. Negotiations and meetings with the carriers continue through mid-June. A report to the governor from the board outlining recommended rates and plan changes was due at the end of June. Legislation reflecting the finalized renewal changes was to be submitted to the legislature by the end of August. She admitted that due to ongoing negotiations those dates were not met and "Subsequently, the hurricanes further delayed the process."
It was on July 20 that Cigna indicated a 15.8 percent renewal rate increase would be required on Oct. 1.
Sen. Kurt Vialet, chair of the finance committee, said that although senators could not participate in the negotiations, they could take an advocacy position and several did have a meeting with representatives of Cigna. He said the senators told Cigna that the Virgins Islands was in the midst of a financial crisis.
"We are in horrible times and need some help," he said.
Smith's third concern was that representatives from Cigna could not attend the hearing in person. Scott Evelyn, market president for Cigna South Florida/Caribbean and Dorothy Callahan, client manager, Cigna HealthCare, attended the hearing via video conferencing.
Vialet said that also concerned him. Vialet did praise the testifiers who were responsible for programs that promote healthy lifestyles and regular check ups for government employees. Mapp said in a November news conference that the answer to the health insurance costs was a pivot to wellness programs. Joseph said that the mandatory health assessment program for employees has been in effect for three years. Other fitness programs have been around longer.
Nelson, who attended the hearing but is not a Finance Committee member, said that all medicine comes from bush medicine and concern for that type of Caribbean culture health care is needed.
Vialet said respect for Caribbean culture and natural cures is warranted but that he highly respects quality medical care since he is the "proud father of a cancer survivor."
His sentiment was echoed by Sen. Novelle Francis who said he was a cancer survivor.
Sen. Jean Forde asked, "What drives the cost of insurance?"
Joseph, of the GESC Health Insurance Board, responded:
"Insurance rates increase based upon the number of claims filed by employees. The highest claims in the territory are for high blood pressure, diabetes, cancer, and muscular-skeletal."
Francis said, "Is it the water we are drinking, the air we are breathing or the food we are eating? Obesity is taking over." He recommended smaller portions on plates.
"Don't make heaping portions," he said.
Some government agencies have special agreements with Cigna. The Water and Power Authority pays 100 percent of the health insurance costs for its workers on the individual plan. The Port Authority pays 85 percent of the costs for its employees. Vialet said these special agreements should cease.
Lawmakers are awaiting a proposal from Mapp before taking action on the health plan.
Other committee members present were Sens. Tregenza Roach, Neville James, and Marvin Blyden. Non-committee senators present along with Nelson were Janette Millin Young and Jean Forde.