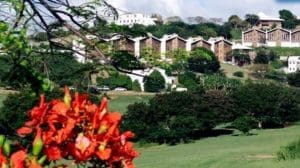 UVI Astronomy Day to Be Held on December 9 UVI's physics faculty in collaboration with Information Technology Staff (ITS), students and the Etelman Observatory announce another UVI Astronomy Day. It will be held at the UVI Library and nearby areas from 10 a.m. to 3 p.m., Saturday, Dec. 9.
There will be an opportunity to participate in arts & crafts activities, enjoy the journey of the solar system and the galaxy in the new planetarium and learn about the bachelor of science program in physics.
For additional information, contact Dr. Antonino Cucchiara at 693-1688 or email: antonino.cucchiara@uvi.edu
CSC 465 – Introduction to Game Design and Development Interest Meeting to Be Held on Dec. 12 Have you ever envisioned what it would be like to develop a computer or console video game? This special topic in computer science is aimed at those people. This course and its expectations, (and now non-CS majors, who will be allowed to join) can attend this interest meeting at 4 p.m. on Tuesday, Dec. 12, for one hour on the St. Thomas Campus in Teacher Education Department (TED) Room 101 and on St. Croix in Evans Center (EVC) Room 401.
This meeting is designed to gauge interest in the course for this coming Spring 2018 Semester, as well as give insight to students that might be interested in the course. A course pre-requisite for computer science majors is CSC 242, with a C grade or better.
A limited number of seats will be offered to non-computer-science majors. The minimum requirements for non-computer-science majors are: junior status with a GPA of 2.5 or greater, written permission from an advisor and a need to demonstrate artistic ability.
For more details, contact Stanley Jointer II at 692-6210 or by email at stanley.jointer@uvi.edu
SGA Accepting Applications for 2018-2019 Miss UVI Ambassadorial Competition The Student Government Association Queens Committee on the Albert A. Sheen Campus seeks female students to vie for the title of the 2018-2019 Miss University of the Virgin Islands. Applications are available and can be picked up at the Student Government Association Office and Student Activities Office on the St. Croix and St. Thomas campuses.
For more information, contact Queens Committee Chairperson Regina Evans at sgastx@uvi.edu or Coordinator of Student Activities Kevin Dixon at 692-4228 or Kevin.Dixon@uvi.edu on St. Croix. On St. Thomas, contact Director of Student Life Leon Lafond at 693-1111 or llafond@uvi.edu.
Amali Krigger Crowned Mister Incredible 2017 on Sheen Campus Amali Krigger was crowned Mister Incredible 2017 at the 3rd Annual Mister Incredible Competition held on Friday, Dec. 1, at the UVI Cafetorium on the Albert A. Sheen Campus.
Krigger is a computer science major in his senior year of study at UVI, Albert A. Sheen Campus, St. Croix. In addition to being named Mister Incredible, Krigger won Mr. Popularity, Best Professional Wear, Best Creative Introduction and Best Performing Talent.
Matthew Perry was named first runner-up; in addition, he won Best Pick up Line and Mr. Intellect. The People's Choice Award and Best 60s SWAG Wear was awarded to Josinio Andrew.
The Mister Incredible Competition was presented by the Student Activities Office on the Sheen Campus.
For more information, contact Kevin Dixon at 692-4228.
Afternoon on the Green 2018 Save the Date for the 29th annual Afternoon on the Green, which will be held from noon to 5 p.m. on Sunday, March 25, 2018, on the Herman E. Moore Golf Course, UVI's St. Thomas Campus.
The Afternoon on the Green is UVI's annual "friend raiser," where the community comes together for live music, delicious food and family fun. This year's theme is "Relief and Recovery on the Green for 2018."
For more information, call the Institutional Advancement Office at 693-1040.