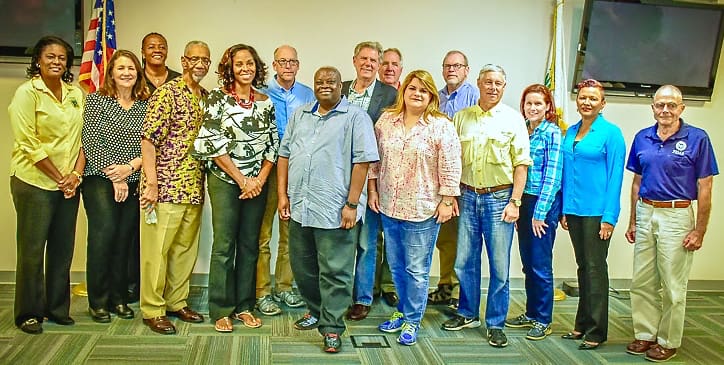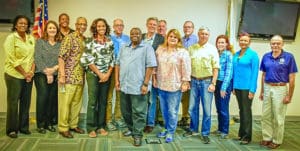 Eight members of the House Committee on Energy and Commerce toured St. Croix over the weekend assessing the damage to the territory and the ongoing effort to recover from Hurricanes Irma and Maria.
The representatives visited on the invitation of Delegate Stacey Plaskett.
Gov. Kenneth Mapp, Water and Power Authority officers and other V.I. officials joined them to provide context and press the case for help in rebuilding stronger than before the storm.
"If there is one thing I ask, it's that you seriously consider amending the Stafford Act," Mapp said Monday in a statement issued Monday. "We don't just need to rebuild, we need more mitigation and to rebuild for the future," the governor added.
The Stafford Act affords assistance to rebuild in the event of a disaster, but not necessarily to make any improvements. According to his office, Mapp is pushing Congress to allow enough funding to improve existing infrastructure, particularly the electrical system, not just rebuild it to the standard it was at before the hurricanes hit. He told the members of the Energy and Commerce Committee it will cost $380 million to rebuild the USVI's electrical system as it was before the storms and $850 million to build a system that is much more impervious to storms.
Mapp is pushing to have all primary and secondary lines buried underground, to create microgrids and to develop more renewable energy sources.
He said such an electrical system would allow the territory to get quickly on its feet in the event of future disasters, prevent economic disruption and greatly reduce the distress to residents caused by prolonged power outages.
V.I. Water and Power Authority Director Julio Rhymer and Energy Office Director Elmo Roebuck echoed Mapp's sentiments. Rhymer told the delegation WAPA was advocating for both burying lines when possible and using composite utility poles rather than regular wooden poles. The composites are more expensive, but they are built to withstand 200-mile-per-hour winds.
"We want to build a hardened system," Rhymer said, according to Government House.
Mapp also asked Congress to allow more flexibility in the use of Federal Highway Funds, according to Government House. As a territory rather than a state, the USVI is limited in the amount of emergency funds it can be granted by the U.S. Department of Transportation, yet it will cost more than $3 million just to repair the islands' traffic lights, administration officials said.
According to Government House, some members of Congress were sympathetic to those appeals.
"These formulas have to change so you are treated like states," said Frank Pallone (D-NJ), the committee's ranking member, who helped lead New Jersey's long recovery from Hurricane Sandy. "It's not only important that we are here today, but that we follow up."
Energy and Commerce Committee Chairman Greg Walden (R-OR) said Congress had learned much as a result of the Virgin Islands recovery effort.
"My biggest take away here is – let's build it back right," Walden said. "God bless you for hanging in there during this real hard time."
"We are hoping that the funding for the recovery and rebuilding for the US Virgin Islands will be prepared shortly in the House of Representative," Plaskett said in a statement about the visit.
The delegation toured Frederiksted, stopping briefly at the hurricane ravaged Arthur Richards Junior High School and the solar farms in Clifton Hill and Orange Grove. The Orange Grove solar farm was destroyed by Hurricane Maria despite being further from the eye-wall. Mapp said that showed the design and construction at Clifton Hill was clearly superior and should serve as an example going forward.
Along with Plaskett, Walden and Pallone, members of Congress visiting St. Croix Sunday included Reps. Fred Upton (R-MI), Gene Green (R-TX), Morgan Griffith (R-VA), Bobby Rush (D-IL), Diana DeGette (D-CO) and Puerto Rico Resident Commissioner Jennifer González-Colón (R-PR).
The members were planning to hold a hearing on St. John Monday, but that was canceled.
"Congress has been called back earlier than expected to DC to handle impending tax, budget and government shutdown legislative business," Plaskett said.