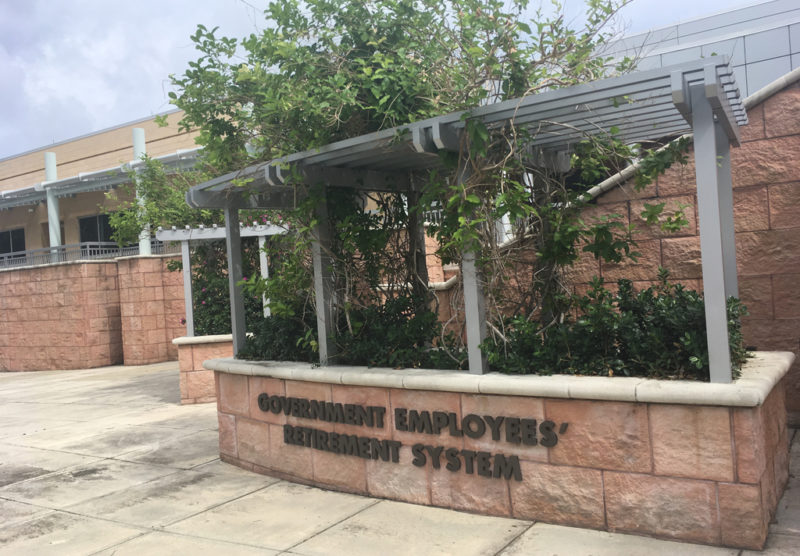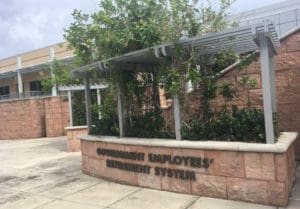 The Government Employees Retirement System is currently paying out twice in annuity payments to retirees than what it collects between employer and employee retirement contributions, rents and loan repayments.
The numbers are not forecast to improve as the investment report projects a significant decrease in its available cash by 2019, GERS advisors reported at the system's monthly meeting Thursday.
The pension plan is at least $3 billion underfunded and has long been projected to liquidate all its assets by 2023 at the latest. At that time, pensioners will be paid solely out of current employee and employer contributions to the plan. A year ago, those contributions were projected to be enough to pay pensioners about 45 percent of what they get now.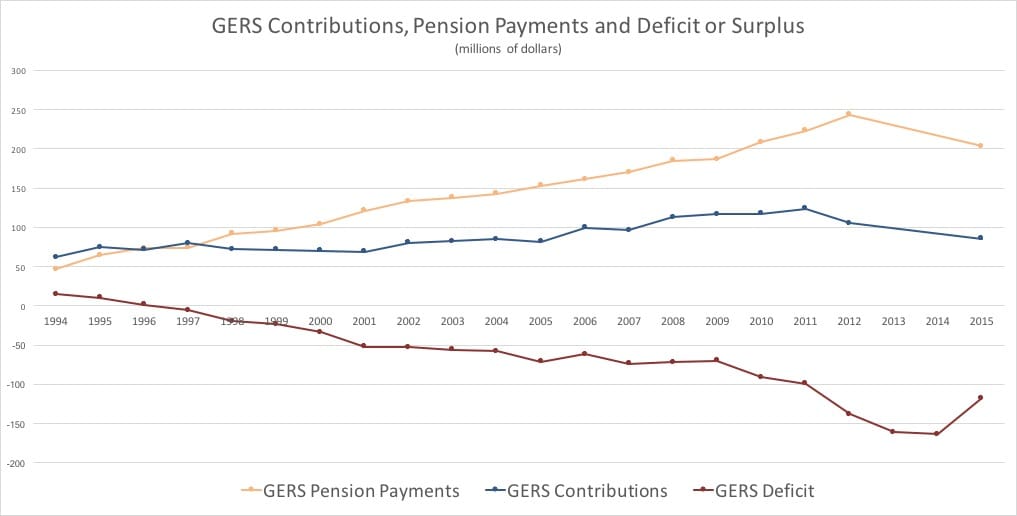 But since then the government has frequently shorted its pension contributions, speeding up the rush to failure. And if pension payments remain low into the future, current contributions will pay even less than the 45 percent previously projected.
According to GERS Administrator Austin Nibbs, there are presently 8,545 retirees who are receiving GERS annuities. In October, nearly $21 million in annuities were paid, and another $1 million spent on expenses. But only $10.2 million was collected, losing the system $11.6 million.
A year ago, in October 2016, the system lost $6.7 million, for a smaller but still large annual loss rate of $80.4 million.
All of the difference is due to the reduced government contributions. In October 2016, the employer and employee contributions came to $12.5 million, while the same month this year only saw $6.28 million.
The current $11.6 million monthly loss would represent an annual loss of almost $140 million. The system's assets earned income of $49 million over the year, and GERS got almost $6 million in rental and other income, reducing the annual loss.
As the system sells assets to pay current pension contributions, fewer assets will be earning money, causing earnings to go down, accelerating the rate of loss.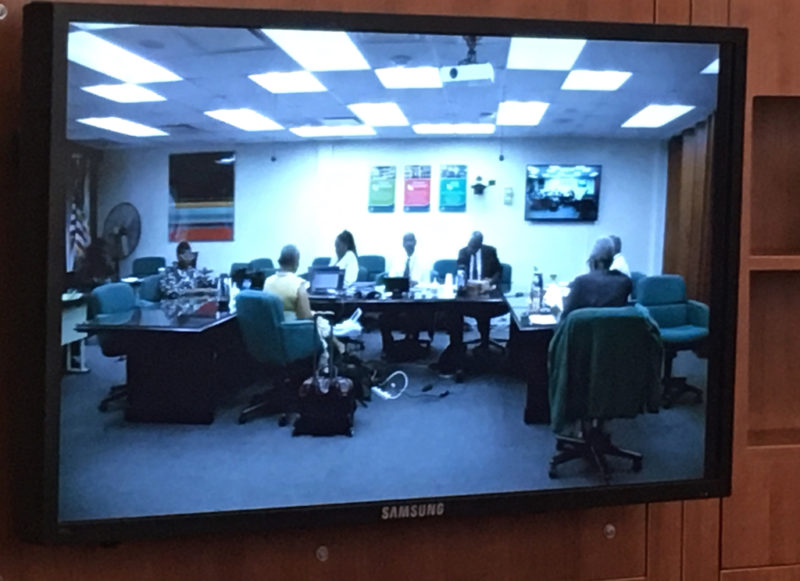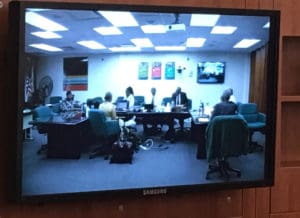 According to the investment report distributed at the meeting, GERS had about $671 million in cash and assets available to potentially pay annuities. That does not include another $113 million listed as "member loans," which cannot be immediately liquidated without losing much of their value.
If the rate of loss continues at the current pace, in a worst case scenario, GERS will have $100 million in liquid assets in 2019, staff reported to the board. That is less than the system loses per year at present. If nothing changes, that could mean reduced pension checks as early as 2020.
But if the system can sell some of its less liquid assets, GERS may be able to increase its liquid assets to $250 million in 2019, the advisors said. That would extend the time before forced cuts to pension checks.
After the treasurer's report was read, trustee Stephen Cohen commented on an average individual who may be working in the government system, saying "they don't perceive this as a major problem ."
Cohen suggested that an educational campaign be presented to employers, agencies and churches to educate employees on the realities of the dire financial situation GERS and its pensioners are facing.
In other, less dire news, rent payments to GERS were also down since the recent storms.
The main issue with rent payments is that the electronic system that processes rent payments for many of the agencies and businesses that owe rent has been down due to the hurricanes. Rent payments received for October were $15,000, while in October 2016, they were $40,000.
GERS is trying to push all of its retirees to sign up for direct deposits by Dec. 31, as this will alleviate issues in the future when disaster hits and individuals are not able to obtain their paper checks and deposit them into banks that may be closed. The process can be done in person or by mail. Individuals can call 340-776-7703 with any questions.
Nibbs reported that on Nov. 14, "there was a double direct deposit and it was in error, the banks are reversing it," for retirees who receive their annuities via direct deposit. The bank is processing GERS direct deposits until the GERS system is back up.
By law, GERS gives around $1 million away to retirees as a "bonus" around this time of year, with checks of between $100 and $200 or so to every retiree. Because the funds come from the V.I. Lottery, both GERS and the V.I. government treat the gifts as unconnected to the system's impending collapse. But GERS announced Thursday that the "bonus" is delayed because it has not received the funds yet.