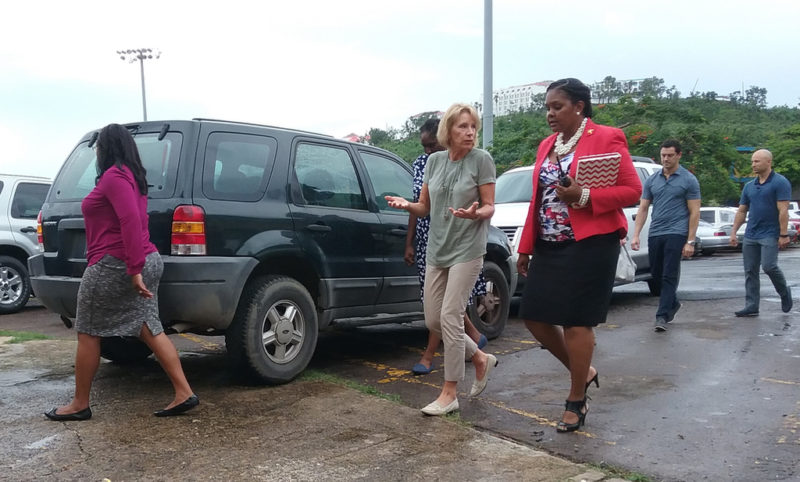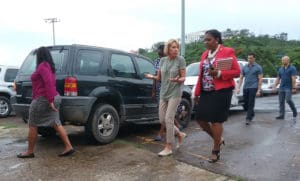 Education Secretary Betsy deVos, the top education official at the U.S. Department of Education, toured Charlotte Amalie High School Wednesday, listening more than she spoke as she met with CAHS Principal Alcede Edwards and his administrative team.
According to deVos spokesman Joshua Venable, deVos' St. Thomas visit was part of an assessment tour of U.S. states and territories affected by recent hurricanes – Harvey in Texas and Louisiana, Irma in the Caribbean and Florida and Maria in Puerto Rico and the U.S. Virgin Islands. In the earlier part of the day the Education secretary looked in on Puerto Rico's public schools.
The visit comes as classes at some V.I. public schools have gotten off to a late start after Category 5 Hurricane Irma rolled through on Sept. 6. Two St. Thomas district schools were declared damaged beyond redemption. Students were shifted into other school buildings on double session.
Then came Maria on Sept. 19-20, with destruction bound for St. Croix. Two more public schools were put out of commission. More students were left displaced.
By the time deVos appeared on St. Thomas, all but one public school – Lockhart Elementary on St. Thomas – had resumed classes. Making up for lost time was paramount among the concerns educators raised on Wednesday.
Education Commissioner Sharon McCollomb and St. Thomas Insular Superintendent Dionne Wells-Hedrington were on the U.S. mainland at the time of the secretary's visit. Education officials said the two were inspecting modular buildings purchased for the territory to replace damaged schools.
Secretary deVos said she wanted to get a sense of how big the problems were after the storms and what USDOE would have to do to help as a federal education partner.
"We know that we are working with many challenges and are dealing with in the interest of getting children back to school and back to a routine and some sense of normalcy," deVos said.
Discussions that followed touched several times on the loss of technology. Standardized test prep, delivered online, kept students from getting ready to take tests, administered online.
Storm damage to the CAHS gymnasium, math classrooms and the science lab left teachers sharing classrooms and students sharing workbooks.
"It's hard to prepare students for a standardized test when you're not online and the tests are given online," said Social Studies Department Chair Cicely Robinson.
Shortened school days, made so by double sessions, meant less time to counsel 12th graders facing graduation. Assistant Principal Njnanya Boyd appealed to deVos to help there.
The College Board acknowledges that V.I. students will have a hard time meeting deadlines required for admission to their chosen schools, Boyd said, but only granted a two week deadline extension.
Seniors faced equal pressure, applying for financial aid. Could USDOE relax the deadline, she asked.
Principal Edwards spoke up in support. "Institutions won't wait," he said.
The education secretary listened thoughtfully but did not reply. She asked if problems with internet connectivity would be resolved soon. After taking a tour of the damaged gym on the eastern end of the campus, deVos had a chance to greet CAHS students as they left their classrooms.
In the high school career center, she sat down with about a dozen 12th graders. The secretary invited them to talk about the ways their lives were changed by the hurricane.
Students spoke about meeting the pressure to perform tasks at school and at home with no way to communicate and sometimes no power. One said having limited time to get things done on a daily basis taught her to prioritize. Another said he was worried his grades would suffer as a result.
DeVos seemed most relaxed as she sat listening to them.
"I would encourage you not to be of the mindset that you would do less well than you would otherwise do," the secretary said.
USDOE Deputy Secretary Jason Botel interrupted, reminding his boss they still had a scheduled visit with the University of the Virgin Islands. Before deVos left, students presented her with a pin of the school's mascot Chickenhawk, reserved for special guests.
"You are now an official Chickenhawk," Edwards said. "We expect to see you wearing your pin at at least one public appearance."
She smiled and stopped to admire the gift. A moment later, the secretary of Education was on her way. There was no mention as to whether deVos would return to the V.I. but Berry-Benjamin noted that Botel, who came along on Wednesday's trip, was on his second visit to the V.I. and was expected to return for a trip to see St. Croix schools.
UVI spokeswoman Tamika Thomas-Williams said the final leg of the St. Thomas tour also led to talks between deVos and school officials, but not at the same length.
"It was a meeting with our administrative staff, the president and his cabinet. She also met our students representative on the UVI board," Thomas-Williams said.