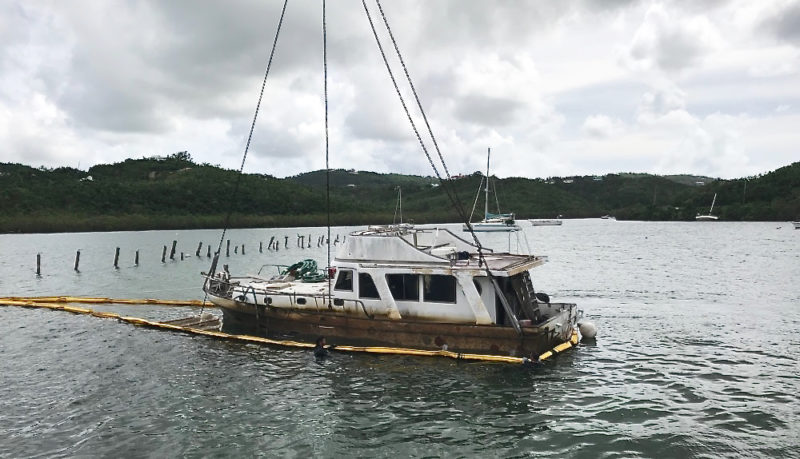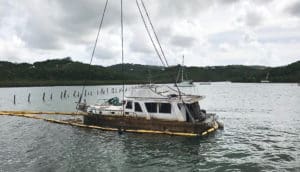 As the U.S. Coast Guard removes sunken vessels that went down around St. Croix in the recent storms, they will not store any in the bioluminescent Mangrove Bay area of Salt River Bay, the Coast Guard said.
The V.I. Department of Planning and Natural Resources authorized moving sunken and damaged boats to minimize and lessen the damage to environmentally sensitive maritime habitats and natural resources.
"We have some good news for those concerned about potential impact to the ecosystem in Mangrove Bay/Bio Bay, we will not be conducting operations or storing salvaged vessels in that location," Cmdr. David Reinhard, Coast Guard incident commander, said in a news release Thursday.
"We understand the importance of this sensitive area to the people of St Croix and we are happy to let them know that we will be able to accommodate all vessels at the main intermediate holding area in Salt River Bay," he said.
The Coast Guard hired the National Response Corporation to remove fuel, oil and other hazardous materials from the vessels; while Resolve Marine Group will oversee the salvage and movement of vessels to intermediate holding areas.
Salt River Bay National Historical Park and Ecological Preserve is part of the National Park system and is jointly managed by DPNR and the National Park Service. The park preserves upland watersheds, mangrove forests, coral reefs, estuarine, and marine environments that support threatened and endangered species.
Due to environmental sensitivity in Salt River Bay and Long Reef these particular vessel removals are conducted at no cost to the vessel owners.
Before removing any displaced vessel within the boundaries of the Caribbean National Parks, vessel owners must contact the National Park Service via email at caribbean_recovery@nps.gov.