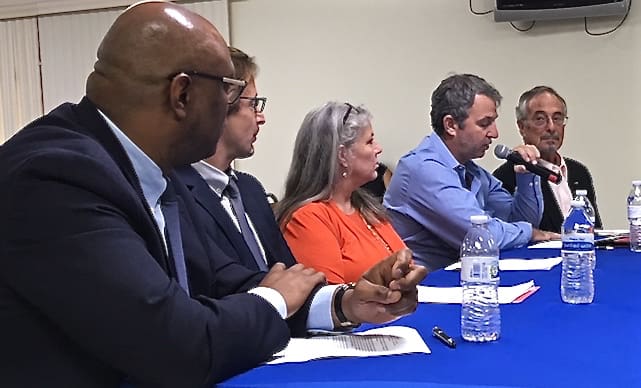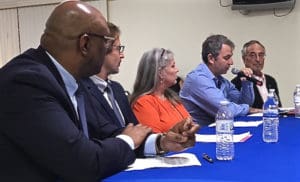 A bill to ease requirements for physicians who provide services in the territory was moved forward Wednesday by the Health, Hospitals and Human Services committee, at a meeting convened at the Superior Court jury room.
If it becomes law, Bill No. 32-0417, proposed by Sen. Nereida "Nellie" Rivera O'Reilly, committee chairwoman, would amend the V.I. Code to eliminate a rudimentary medical test for specialized physicians who hope to set up practice in the Virgin Islands and eliminate gross receipts taxes for medical services rendered to Medicare and Medicaid patients.
The bill also highlights telemedicine, which was legalized by the Legislature in 2010 but has not been implemented.
Testifiers, who included physicians and other health care professionals, agreed with O'Reilly that the process for licensing specialized physicians should be streamlined and it should not be necessary to administer the Special Purpose Examination (SPEX) as it is a basic, general exam and not necessary to require of long-time medical doctors.
Dr. Jeffrey Chase, president of the Association of Hospital Employed Physicians, said the medical board's elimination of the SPEX would be "a simple fix."
Keith Moore, who established the Barry University Physicians Assistant campus on St. Croix, said the SPEX is a "general medicine test that forces a doctor to restudy everything they learned in medical school, much of which is not relevant to their specialty practice." They give up time they could be seeing patients and then pay around $1,000 to take the exam, he added.
Dr. Anthony Ricketts, pediatrician, said current licensing practices hindered physician recruitment when he was former board chairman of the Gov. Juan Luis Hospital.
One reason for eliminating gross receipts taxes, O'Reilly said, is that clinics that refer Medicare and Medicaid patients do not pay gross receipts taxes and the physicians they are referred to shouldn't either.
Chase pointed out that physicians who care for Medicare and Medicaid patients only receive reimbursement for about half the cost of treating those patients and their services are further discounted by gross receipts taxes. In recent years, about half of their patients are on Medicare or Medicaid versus 20 percent several years ago, he added.
"We are all working harder for less," Chase said.
Testifiers all spoke in favor of promoting telemedicine. The previous legislation called for the creation of a telemedicine advisory committee and licensing for practitioners. Since no committee was formed and there is no telemedicine licensing application, there has been no significant use of the practice, according to Ricketts.
According to Dr. Jan Tawakol, president of the Plessen Medical Group, there were 28 physicians on St. Croix on Sept. 30, after Hurricanes Irma and Maria strafed the territory. At least 22 more are needed, he said, and the Gov. Juan Luis Hospital is loosing income in the interim.
Tawakol said telemedicine would create more access to health care and lower the costs while improving the local economy and creating employment. Moore said it would improve access to health care and reduce government spending by keeping people healthier.
Tracy Sanders, president of Continuum Care, Inc., agreed with the others and described her company's use of tele-monitoring patients in their homes.
"With the written consent of our patients, we are able to relay real time data, photos and videos to the patient's physician so she/he can see what we are seeing while in the home," she explained.
Francis asked testifiers what the perceived drawbacks of telemedicine might be and Ricketts said physicians might worry about being paid and having others infringe on their patients. Tawakol answered simply, "It's new."
Committee members expressed interest in and support of the bill. Sen. Sammuel Sanes said he has been supportive of the measures for two or three years. The Virgin Islands is loosing money because patients travel for medical care when specialists and telemedicine could provide much of the care.
Sen. Dwayne DeGraff was told by Chase and Tawakol the territory would not loose income with its passage. Sen. Novelle Francis, Jr. said he would invite the director of the V.I. Bureau of Internal Revenue to testify at the Rules Committee hearing for verification.
"If we are serious about improving health care, we need to be creative about how we are going to do that," O'Reilly said.
The bill was approved by O'Reilly, Francis, Sanes and Sen. Kurt Vialet – the only committee members remaining at the time of the vote. Attending the hearing were O'Reilly, Francis, DeGraff, Young,Vialet, and Sen. Alicia "Chucky" Hansen, not a committee member.