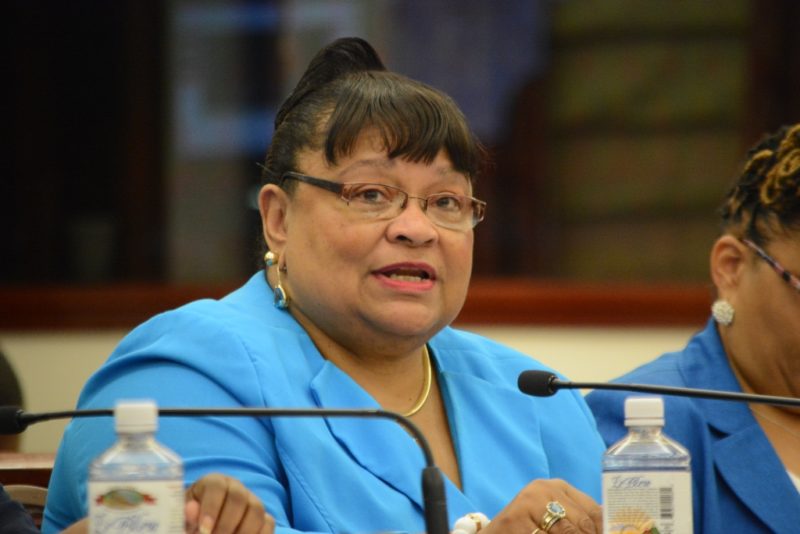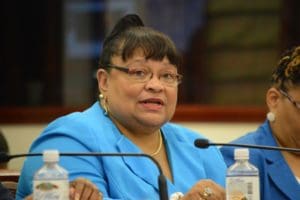 On the first day back to school since Hurricane Irma devastated St.Thomas and St. John, 1,814 students and 271 teachers reported to schools in the St. Thomas-St. John District on Tuesday.
Not all schools are open and not all students came to school. The St. Thomas-St. John district had 6,893 at the beginning of the last school year.
St. Croix schools have not reopened yet.
Education Commissioner Sharon McCollum and St. Thomas-St. John District Superintendent Dionne Wells-Hedrington visited all six school sites which opened to students and reported that the opening "went well," according to a statement from the Education Department.
Students attending the Addelita Cancryn Junior High School, who are in split session with the Charlotte Amalie High School, will attend their six period class schedule on a Monday/Wednesday, Tuesday/Thursday schedule. For four days, classes will be an hour and a half long and on Fridays, they will have all six classes for 40 minutes each.
Cancryn Principal Lisa Forde told parents who attended the orientation sessions on Tuesday that Cancryn will still offer all of its services to students while temporarily housed at CAHS, and said the quality of education will not change.
The Joseph Gomez Elementary School and the Bertha C. Boschulte Middle School began their school day with minor generator complications that were resolved by midday, according to the Education Department. BCB Assistant Principal Michelle Wilkinson said that through the brief power outage, teachers and students took their chairs outdoors and continued lessons.
Thelca Bedminster, principal of the Jane E. Tuitt Primary School welcomed some of the district's youngest learners and reportedly echoed the sentiment that the opening went great.
"I could tell my students were ready and excited to be back," Bedminster said. "The kindergarteners, especially, were all smiles and so bright and beautiful in their uniforms."
The school district encourages parents to send their children to school and to utilize the bus services provided. Additional bus routes for split session schools have been added.
"All of the schools that have opened are fully functional. This school year will be challenging but we are making significant progress towards normalcy and we are ready to receive students," McCollum said.
The Ivanna Eudora Kean High School, originally scheduled to open on Thursday, will be postponed until Monday.
Some schools on St. Croix also will open Monday.
Students will continue to be served sandwiches for breakfast and lunch boxes for midday meals this week. Drinking water is provided at all schools and hot meals are scheduled to begin Monday.
Tuesday evening at a news conference, Gov. Kenneth Mapp said the schools were not all perfect and ready to go for the first day, and that "there were some issues with connectivity."
He thanked the U.S. Army Corps of Engineers and the Federal Emergency Management Agency for their help in assessing schools and their work "to connect them, fire them up and get them ready for operation."
Many of the schools are not yet reconnected to the power grid. FEMA Coordinating Officer William Vogel said the Army Corps of Engineers went to each school to assess what type and quantity of generator would be needed to power the schools and how best to hook them up. Some schools took as many as three generators to be powered up, he said.
With schools reopening, Mapp thanked "our crossing guards, who have been helping us with traffic control on St. Thomas and St. John," saying that now they will "return you to work at the schools, the children need you more."
Below are the numbers of students and teachers at each school, according to the Education Department:
Leonard Dober Elementary
Teachers: 10
Students: 95
BCB Middle
Teachers: 41
Students: 327
Jane E. Tuitt Primary
Teachers: 12
Students: 82
Joseph Gomez Elementary
Teachers: 26
Students: 245
Cancryn (opens Wednesday)
Teachers: 73
Students: 175
Joseph Sibilly
Teachers: 14
Students: 153
Edith Williams
Teachers: 5
Students: 4
Charlotte Amalie HS
Teachers: 90
Students: 733