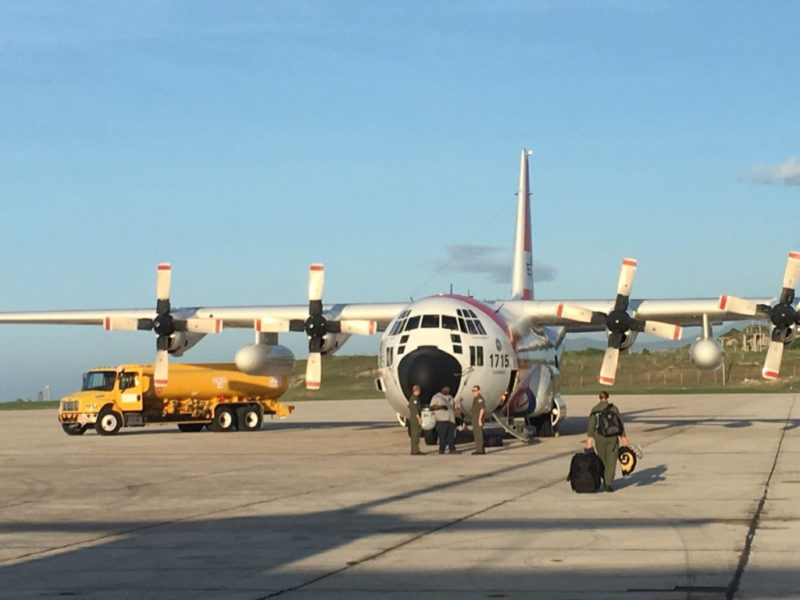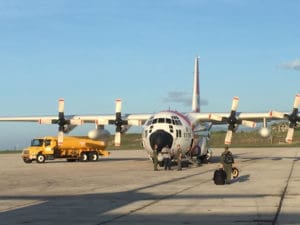 The Juan F. Luis Hospital was severely damaged and all 65 patients there will be evacuated beginning Friday with the help of the U.S. military, Gov. Kenneth Mapp said as he briefed the news media late Thursday afternoon.
The governor said he believed the patients, along with people who needed dialysis care, would be taken to South Carolina.
Mapp took a helicopter tour of St. Croix earlier in the day to assess damage on St. Croix. He said that the western part of the island had been "battered" severely by Hurricane Maria. The cruise ship pier appeared not to have been damaged, as it was in Hurricane Hugo, but the Arthur Richards Middle School was destroyed and other schools damaged.
Mapp said he did not know when most residents will get power or when the airport would open to commercial traffic. He did not address when students would be able to return to school, but emphasized that recovery would be a "long, hard road."
The governor said he talked to President Donald Trump just before Thursday's news briefing and said the president affirmed that he stood with the people of Virgin Islands and would make sure that federal assets that were needed by the people got to them.
And a lot of help is needed, Mapp said, as the territory was hit with two major hurricanes within 12 days.
The curfew on St. Thomas and St. John will be shortened Friday, the governor said. Residents will be allowed on the roads and in the public from 10 a.m. to 6 p.m. He said the 24-hour curfew on St. Croix was not being shortened, but he would suspend it for four hours Friday – noon to 4 p.m. The major groceries stores and some gas stations are expected to be open during those hours. Also, four locations will be open to distribute emergency supplies of food and water. The sites are at Cotton Valley Fire Station, St. Croix Educational Complex, Alexander Henderson Elementary School and Juanita Gardine Elementary School. Residents will be able to get a case of military meals and three liters of water.
Mapp said he was ordering that any business that is open during curfew hours will have its business license revoked.
Health Commissioner Michelle Davis said during the briefing that the departent's facility at Charles Harwood, was flooded. She expected a mobile health unit to be functioning there next week.
The Frederiksted Clinic was also damaged but Davis said it should be open next week.
Mapp said that during his tour of the island he was concerned with all the vehicles on the road during curfew. Some were government vehicles, he said, but were not doing official work; instead the government workers were driving their families around.
"This is not a party; this is not a celebration; this is real," he said.
Mapp said he will have no problem enorcing the curfew.
For the people who persist in breaking the curfew, "I have a lot of room in Golden Grove (Correctional Facility) and am prepared to use it," he said.
Residents driving around to satisfy their curiosity hinder the recovery effort. He said people did a fine job of following advice during the storm and that resulted in no serious injuries.
"You hunkered down and you hunkered down well," he said.
Now, he said, it was important that residents cooperated by staying off the roads until they are cleared.
The federal government had planned to funnel all its relief efforts through Puerto Rico, but Mapp said he talked them into having a separate "pipeline" to the Virgin Islands for its relief effort.
William Vogel, coordinator for the Federal Emergency Management Agency, said that his people were working on getting generators up and running at the reverse osmosis water plant and one for airport lights. He also said urban search and rescue teams would begin working that evening.
Mapp said Trump had intended to visit the Virgin Islands, but Maria got in the way. The national media is reporting that Trump plans to visit Puerto Rico, where Maria killed at least 15 people.
"The worst is behind us," Mapp said. "Now is the time to work to build a better community."
A plan is being developed for teams to go out on all the islands and help residents who lost their roofs or had their roofs damaged get their homes sealed with tarpaulins so they can "stay dry" and it would be no cost to the home owners.
According to the FEMA web site, the agency has vessels with more than 1.3 million meals, 2 million liters of water, 30 generators and 6,000 cots are en route to St. Thomas, awaiting port opening and clearance.