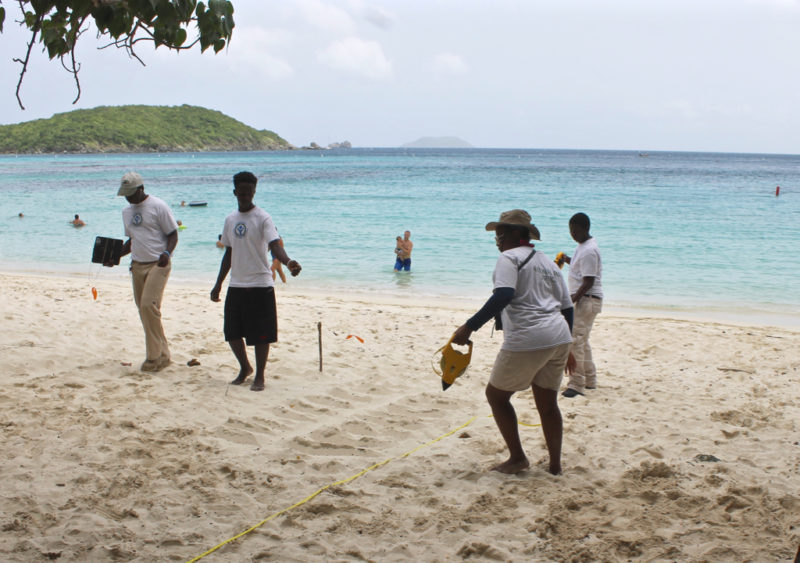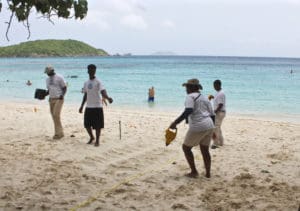 While most of us were sleeping on the night of Aug. 28, newly hatched hawksbill turtles emerged from their nest on a remote beach on St. John's south side and crawled into the sea to begin their aquatic lives.
Where they're going remains a mystery, but thanks to a cadre of volunteers, scientists will know where they came from. Almost 35 children and adults have signed up to walk the sandy beaches of St. John in the early morning to look for signs of turtle nesting and hatching events.
They've found several nests so far, one of which has hatched.
Hawksbill turtles can nest any time throughout the year, but the peak season extends from June through November, according to Adren Anderson, the Sea Turtle Program Coordinator for Friends of the Virgin Islands National Park. The program has been funded from August through November.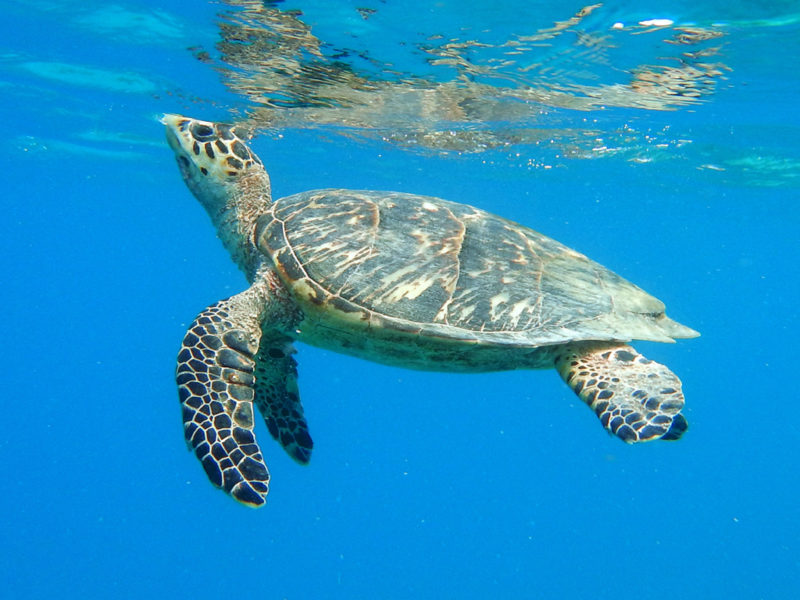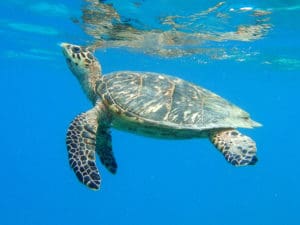 Hawksbill turtles are one of three species that inhabit the waters of the Virgin Islands, and the only species that is known to regularly nest on St. John. Green turtles, which are commonly seen, were not known to nest on St. John until Sept. 2 when a hatched nest was excavated by Anderson and a team of volunteers.
When Anderson examined two remaining eggs that had not hatched, she was astonished to discover that they contained embryos of green turtles, and not hawksbills as she had presumed.
"We made history!" said 10-year-old Tia, one of the volunteers.
There have been two recorded hatchings of leatherback turtles on St. John in the past, but these creatures, which can weigh up to 1,000 pounds, prefer the long, sandy expanse of the beach at Sandy Point on the West End of St. Croix.
"A lot of our beaches on St. John are bordered by shallow coral reefs. Leatherbacks are huge; they need deeper approaches," Anderson said.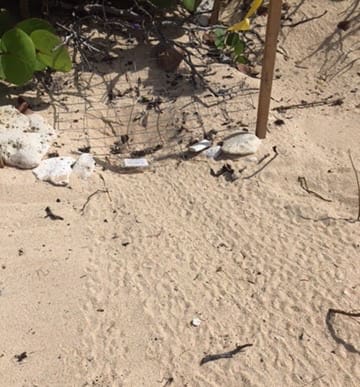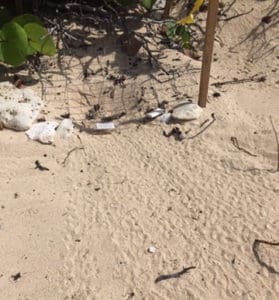 Hawksbill turtles, which can weigh up to 170 pounds, have been prized for their beautiful shells and are classified as critically endangered. They have not traditionally been hunted for food in the Virgin Islands, perhaps because of their diet. They feed on sponges, which contain substances toxic to humans that accumulate in the turtles' bodies.
Sea turtle eggs, however, are thought to enhance sexual prowess, and local bakers have told Anderson, "They make the best cakes." Dogs and mongooses also feed on turtle eggs.
To protect nests, Anderson and her volunteers are patrolling the beaches on a regular basis.
Female hawksbill turtles, which begin laying eggs at around age 30, will typically lay between one and seven nests per season, with up to two-week intervals between nesting events. Sometime during the night, they crawl up on a beach, often to the vegetation line, and dig a hole using their hind flippers which are equipped with a claw that can cut through roots and branches.
The nesting females dig a lightbulb-shaped hole into which they deposit between 100 and 200 eggs, then cover it with sand and retreat to the sea. Between 55 and 75 days later, the new hatchlings will emerge from the nest and crawl into the sea, usually under the cover of darkness. The odds of survival are slim. Marine biologists think only one out of one thousand will reach breeding age.
Anderson has been training volunteers to detect signs of new nests and recent hatchings, such as indentations where nests were laid and track marks left by the turtles' flippers.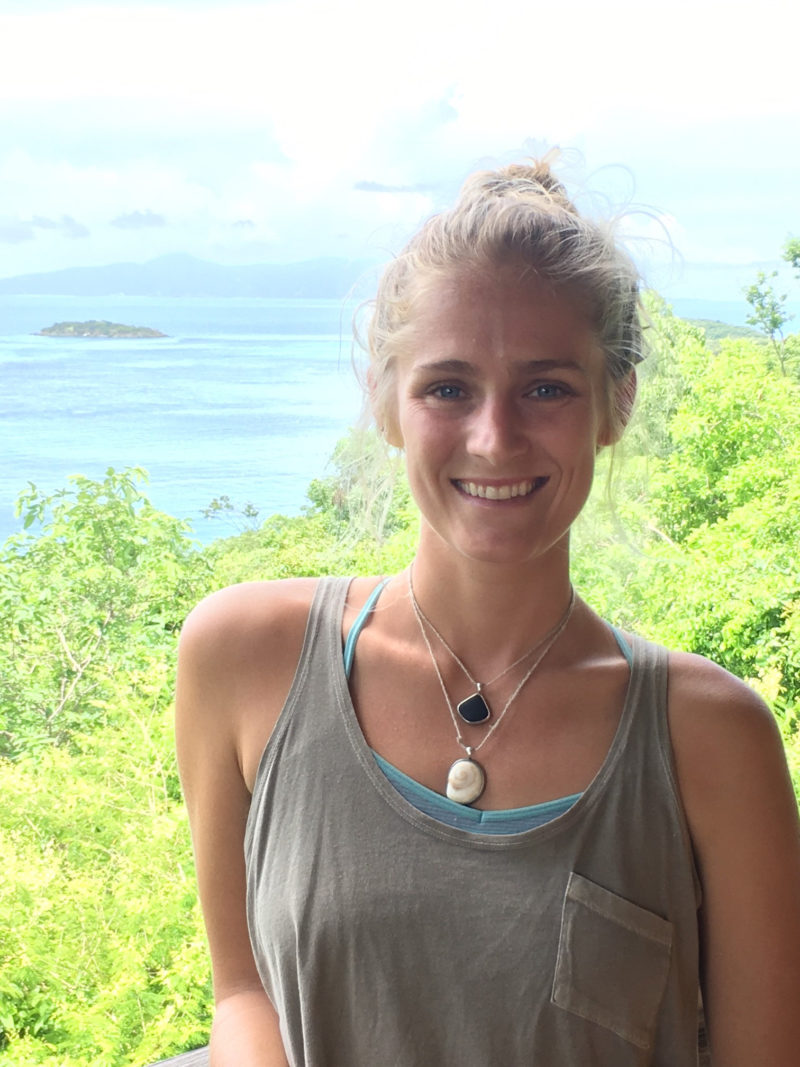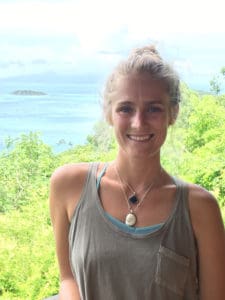 Once an active nest has been found, Anderson covers it with a metal screen to protect it from predation by dogs and mongooses. The screen has holes large enough for new hatchlings to crawl through. She also posts signs warning of $25,000 civil penalties for harming endangered species.
No one knows for sure what the lifespan is for hawksbill turtles.
"There are a lot of numbers out there" said Anderson. "It's greater than 90 years, but there's not a great way to age them unless you start tracking them as hatchlings."
Anderson has worked on projects monitoring loggerhead turtles in Georgia and Australia. She said studies of maternal DNA in the shells of loggerheads have revealed that up to three generations come ashore to nest at the same beaches during the same season.
Volunteers for the project on St. John sign up to patrol beaches in the early morning to observe any nesting or hatching events before human activity or rain showers obscure the signs. Most volunteers monitor beaches near their homes where they'd be likely to walk anyway, said Anderson, but some agree to hike several miles to patrol more remote beaches, like Reef Ray on St. John's south shore.
When she is not working with volunteers, Andersen visits camps and schools to educate children about the turtle monitoring program and the importance of protecting the marine environment.
More information is available by contacting Adren Anderson at the National Park Service and U.S. Geological Survey field station at 340-693-8950.