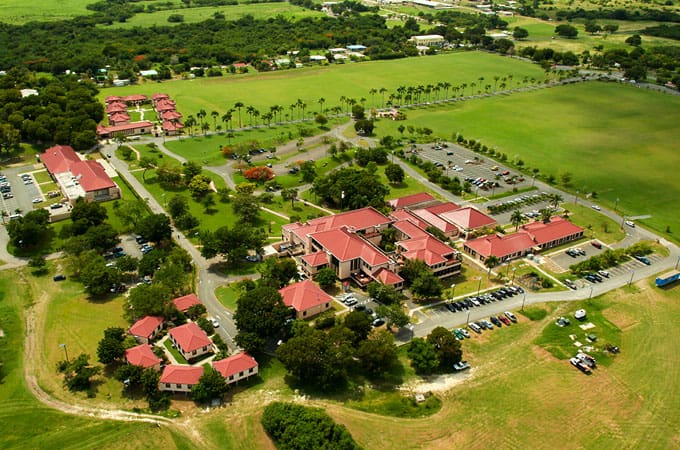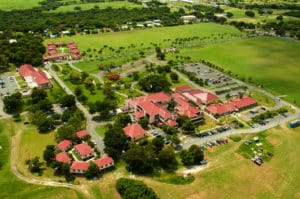 UVI to Launch $25M 'Campaign for UVI' This fall, the University of the Virgin Islands will launch the public phase of "Campaign for UVI," the first comprehensive fundraising campaign that the university has ever undertaken. Through this $25 million campaign, it will raise funds in three areas: Promote Excellence in Teaching; Facilities and Infrastructure and Campus Programs. The campaign's theme is "Creating Legacy."
The Campaign for UVI will launch at 5:30 p.m. on Tuesday, Aug. 29, at the Reichhold Center for the Arts on St. Thomas, during the Business After Hours Season Launch Party. The campaign will kick-off on St. Croix at 4:30 p.m. on Wednesday, Sept. 13, at a reception on the Albert A. Sheen Campus. The silent phase of the campaign was launched in 2010 and to date has raised $17.5 million.
"I am determined to see the University of the Virgin Islands become the best and most effective institution of higher education it can possibly be," said UVI President David Hall. "Our purpose is to become a major center for academic excellence, and even more vital force for economic growth, and a catalyst for improving the quality of life for residents across the Territory."
More information is available in a news release on the Media Section of the UVI website –http://www.uvi.edu/
Registration Open for VIUCEDD's American Sign Language (ASL) Course The Virgin Islands University Center for Excellence in Developmental Disabilities (VIUCEDD) is offering American Sign Language beginners one and two courses on St. Thomas and St. Croix beginning from Sept. 11 – Nov. 16.
Registration is now open until Aug. 30, 2017.
For more information or to register, contact Shamika Thomas at 693-1406 or by e-mail: shamika.thomas@uvi.edu
Study Away & NSE- It Can Be You! Come learn about how UVI makes it possible for you to study away. UVI has many options for students who want to travel. For trips with credit or semester or year study away possibilities, please come to the Albert A. Sheen Campus Study Away and NSE Interest Sessions.
These sessions are scheduled for 1 p.m. on Wednesday, Aug. 30 (location TBA) and from 12:30 p.m. to 1:30 p.m., Thursday, Aug. 31, in the Evans Center, Room EVC 716. Hear NSE student's adventures at University of Puerto Rico last spring at 4 p.m. on Tuesday, Sept. 12, (location TBA).
For more information, contact Patricia Towal, director of Counseling and Career Services, at ptowal@uvi.edu.
Coastweeks Partners with CZM to Recycle Hard Plastics The Virgin Islands Marine Advisory Service (VIMAS) is now partnering with the Department of Planning and Natural Resources Coastal Zone Management to recycle hard plastics collected during these beach cleanups.
Coastweeks begins on Sept. 16 through Oct. 31, and volunteers are needed to help with this collection process. No sign up is required and students can earn community service hours for their participation.
Visit the site:
http://www.uvi.edu/community/virgin-islands-marine-advisory-service/st-thomas/coast-weeks.aspx
For more information, contact Howard Forbes at the Center for Marine and Environmental Studies at 693-1672 or by e-mail at howard.forbes@live.uvi.edu.
AAS Campus Psychology Club Meeting to Host Guest Lecture – NSE Experience in Puerto Rico The Psychology Club of Albert A. Sheen Campus announces their first meeting featuring one of our own Albert A. Sheen Campus student who was a National Student Exchange Student at the University of Puerto Rico, Rio Piedras Campus in spring 2017.
Tiara De Costa will present her vivid experiences in Puerto Rico and how those experiences impacted her college career. The meeting will be at 12:30 p.m. to 1:30 p.m. in Evans Center 716, on Thursday, Aug. 31. Please come and enjoy this enlightening presentation. Life begins at the edge of your comfort zone!
For more information, contact Patricia Towal by telephone at 692-4187 or send an e-mail to ptowal@uvi.edu or abauman@uvi.edu.
UVI Cell Courses Available to HR Professionals for National Certification Human Resource Professionals interested in earning the Professional in Human Resource (PHR®) or Senior Professional in Human Resource Professional (SPHR®) designation can now enroll in the upcoming exam preparation course. The Prep course is open to residents on both St. Croix and St. Thomas starting Monday, Sept. 11.
The PHR/SPHR Certification Prep course will prepare Human Resource professionals for the national certification exam. It will cover topics such as business management and strategy, workforce planning and employment, compensation and benefits, human resource development, employee and labor relations, risk management and much more. The curriculum reflects the most up-to-date body of knowledge of the Human Resource Certification Institute (HRCI).
The course schedule is as follows:
St. Croix
Date: Sept. 11 – Nov. 6
Time: 6 p.m. – 9 p.m.
Location: UVICELL Center – Frederiksted, St. Croix, 23A Hospital Street
St. Thomas
Date: Sept.11 – Nov. 6
Time: 6 p.m.– 9 p.m.
Location: UVICELL Center – St. Thomas, Faculty East, UVI Campus
For fees or more information on the course, call 693-110 or visit http://cell.uvi.edu.