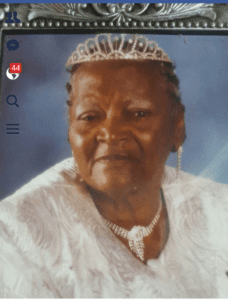 Emelda M. Parris, affectionately called, "Melda" or "Mama," of Estate Whim died on July 1. She was 88 years old. She died at the Memorial Regional Hospital in Hollywood, Fla.
She was preceded in death by her husband, Joseph Parris Sr., mother, Hilda Wilson-Henry; father, Alexander Willard; son, Ray Parris Sr.; stepdaughter, Sharon Sobratti; granddaughters: Stephanie Parris and Teshanee Rodgers.
She is survived by her daughters: Lorroley Hall, Brenda Parris-Hodge, Harriet Robles, Myrna Payne, Glenice and Mary Parris; stepdaughter, Annette Parris; sons: Wendell Parris Sr., Wayne Parris Sr., Joseph Parris Jr., James and Randall Parris; sisters: Glenda Casey, Adele Cato and Charlotte Ann Dessuit; brother, Lionel Henry; nieces: Triska Henry-Byrd and Allenet Dessuit; and nephews: John King Jr., Wendell King, Lionel Henry Jr., Charles Casey Jr. and Shaun Dessuit.
She was also survived by grandchildren: Brenda Lynch, Gerard A., Sandra, Angela Ronald Hall, Debra Mitchell, Lydell Shaw, Brenda Parris, Wendell Parris Jr., Kai, Jahmali, Brei- Anna, Tajhi, Ray Parris Jr., Kevin and Janella Parris, Raynessa Parris-Butler, Wanda Parris-Flannagan, Wilbur, Whitney and Neyah Parris, Khalilah Goodwin, Ebony and Tamika Hodge, Kareem, Jashua, Yvonne, and Wayne Parris Jr., Darian Ventura, Latoya Roach, Craig Velasquez, Nicole Dubois, Ayana Irvin, Shevonne, Shamaca, Shamara Parris and Stephanie Ambrose.
Other survivors include step-granddaughters: Kenisha Sobratti and Keian Rogers; step-grandsons: Kenneth and Kalif Sobratti; cousins: Ingrid Sims and Gerda Sebastian; daughters-in-law: Sylvia and Saturine Parris; son-in-law, Wayne Payne; brother-in-law, Charles Casey Sr.; sister-in-law, Cheryl Henry; godson, Al Andrews; special friends: Lydia CT Parris, Theresa Douglas, Karen Gilkes, Vivian Mason and family, Florabelle Miller and family, Rita George, Marion Lynch Moore, Irose Spooner, Cora Parris, Litsey Galloway, the Bethlehem family, the City of Refuge Worship family, the Freidensberg Moravian Church family; as well as other relatives and friends too numerous to mention.
A viewing will take place at 9 a.m. and a funeral service at 10 a.m., Monday, July17, at the City of Refuge Worship Center. Interment will follow at Kingshill.