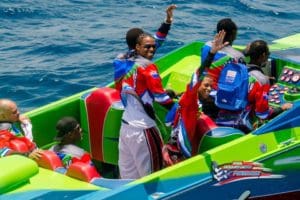 Most carnival events get lots of press coverage, but one recent addition to the St. John July 4th Festival has received little attention despite its growing popularity.
The USVI Stars and Stripes Poker Run, held on Sunday, July 2, attracted more than 400 participants, but because the event was held on the waters surrounding St. Thomas, its inclusion in the St. John carnival lineup has been largely overlooked.
A poker run is an organized event in which participants visit five to seven sites, randomly drawing a playing card at each. At the end of the event, the individual or team with the highest poker hand wins the prize.
In the States, poker run participants get around by motorcycles, all-terrain vehicles, bicycles, or snowmobiles, but in the Virgin Islands, the chosen form of transportation is motor boats.
The Leverick Bay Poker Run held in May in the British Virgin Islands has been going for 16 years. This year it drew several hundred boats and involved thousands of participants from throughout the Caribbean.
The USVI Stars and Stripes Poker Run, now in its fourth year, has grown from 14 boats to 41 vessels. This year, participants set out on a route to circumnavigate St. Thomas with a stop in Cruz Bay, St. John.
After registering at the Yacht Haven Grande Marina, contestants cruised to the Pizza Pi Boat in Christmas Cove, crossed Pillsbury Sound for a stop near the Beach Bar in Cruz Bay, crossed the sound again to Coki Point on St. Thomas, and went down the north side. After rounding the western tip of St. Thomas and stopping at Brewers Bay, they moved along the south coast to Lanai Beach Bar at Limetree Beach. The event culminated with an awards ceremony at the Yacht Haven Grande Marina.
Although cigarette boats are a popular mode of transportation, the speed and size of the boat have no bearing on who wins; rather, it's the luck of the draw. The first-place winner on July 2, taking home a $4,000 prize, was Team Ice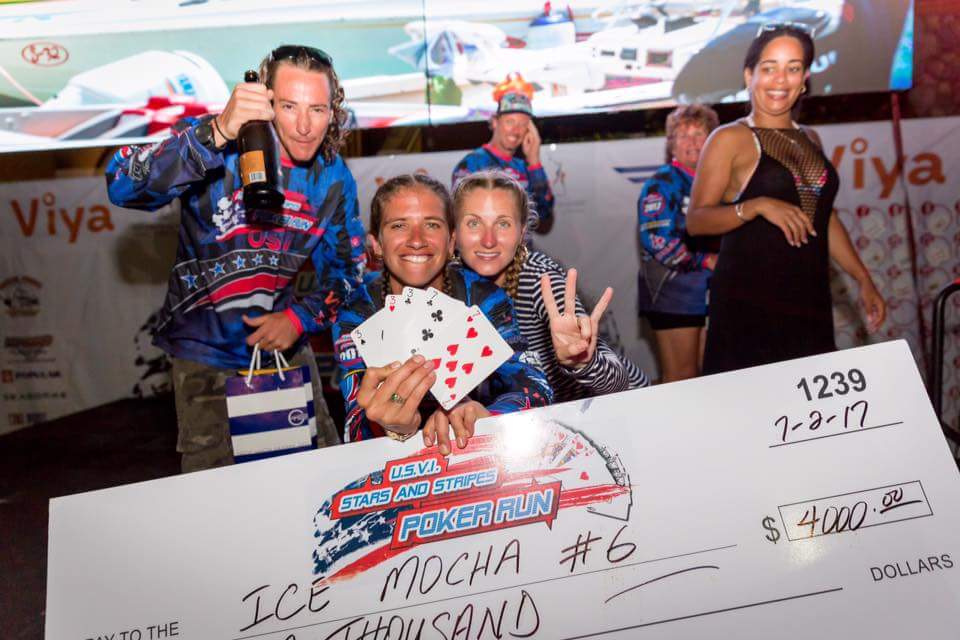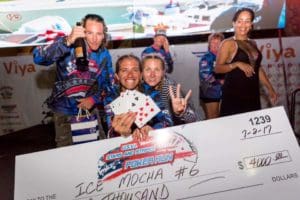 Mocha Fatty which made the journey on a 16-foot Boston Whaler.
Captain Andrea Tromben and her crew Jon Jon Turbe, Kayla Halliday, and Chloe Rosey won with a full house–drawing three threes and two sevens.
The event is well-organized and monitored, said Tromben. Unlike real games of poker, there's no secrecy involved in who holds what cards. At each stop when a card is drawn, that card is reported to the committee headquarters and made public. "It was legit. There was no funny business," she said.
Team Gorilla from Tortola won second place, taking home $2,000. Maryanne Browne, an individual entry, won third place with a $1,000 prize. Aaron Roach won a $500 prize for Best Restored Boat. Each boat paid a $250 entry fee.
"I've been in many awesome marine events," said Tromben. "I've won the Rolex, the HIHO, and sport fishing competitions. But I would have to say, full-house hands down, that this was one of the 'funnest' days on the water."
Tromben said with winds gusting up to 20 knots, "There was a little blood, and some lost sunglasses and hats." But that didn't detract from the fun of enjoying the company of other mariners. "There was a good mix of people. There were people who just moved here and people who have been here for generations. There were $100,000 boats tying up next to $10,000 boats," she said.
The purpose of the USVI Stars and Stripes Poker Run is to stir interest in the local marine industry, according to organizers Gerren and Guilderoy Sprauve.
"Back in the 80's, the USVI had a booming marine industry," said Gerren Sprauve. "For whatever reasons, it has slowed down. We've been working with the Department of Tourism to attract boaters."
Although the event is part of the St. John July 4th Festival, the event organizers only included one stop on St. John.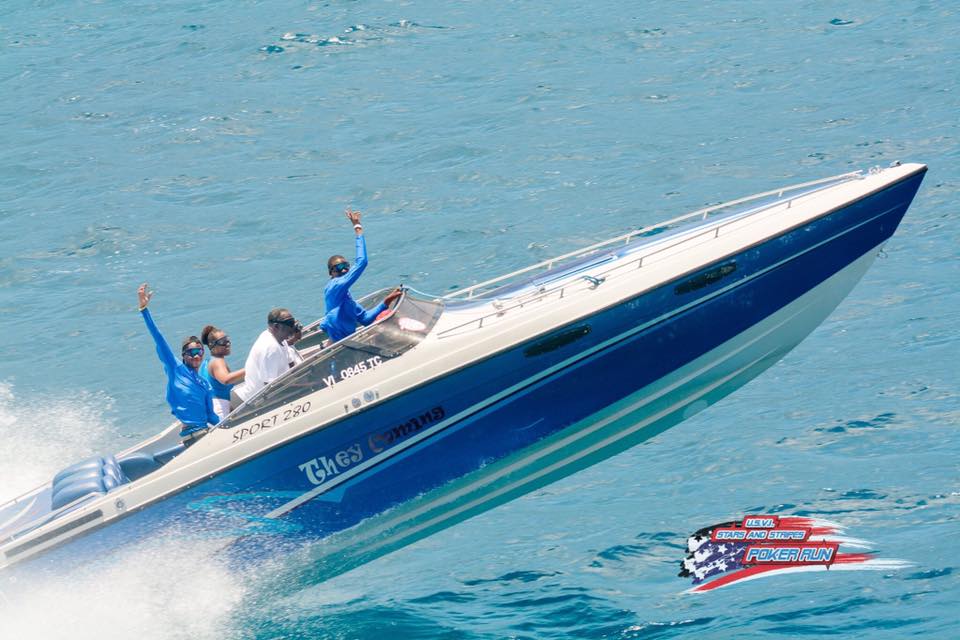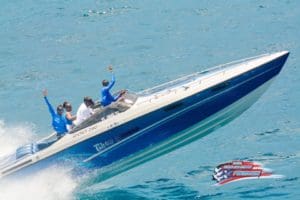 "In the BVI, there are docks and restaurants on the water everywhere, said Guilderoy Sprauve. "We don't have that here, especially on St. John with the National Park. I understand and respect conservation, but how can we balance the environmental concerns with marine enterprises? We want this event to grow to 150 boats. When participants come, they eat our food, stay in our marinas, buy our fuel. They invest! So how do we create an atmosphere that's marine friendly?"
One way is to involve local businesses as sponsors for the event. Saul Stain, vice-president of ABC Sales and Service, said his company was a sponsor for two years.
He also participated in the 2015 Stars and Stripes Poker Run.
When people ask him why a cleaning business would get involved, he explains that his company does provide services for boats, but it's more than that. "Being that we live on an island, I think it's super what Guilderoy is doing to spread awareness, and involve us in the 'Triple Crown'—poker runs in the BVI and St. Maarten. I wish there were more nautical events that the community could take part in."
The Sprauves hope the event will involve all members of the marine community as well as the local government. They intend to generate funds for vocational programs in the marine industry in addition to prize money. "If we can accomplish that, everybody wins," said Gerren Sprauve.
Special for VI Source and St. John Tradewinds.