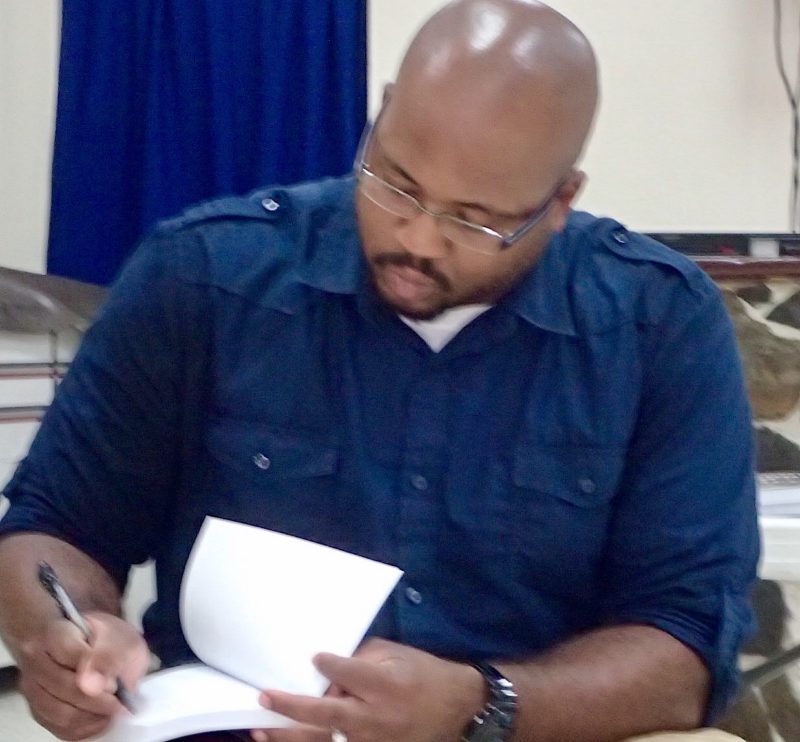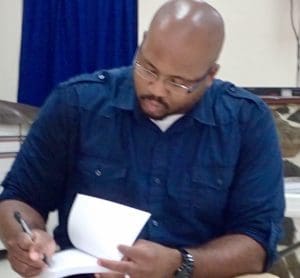 Khalid Saleem, born and raised on St. Croix, returned to the island recently to talk about his world travels, to promote his book and to thank the people who inspired him to become a writer. Saleem said he has learned a lot from his travels and has collected mentors at every turn.
He spent 10 years in the U.S. Army, serving in Europe and the Middle East, lived in Nigeria for three years and now lives in Hong Kong with his wife. Since leaving military service, Saleem has earned a living as a teacher, all the while writing everything from screenplays to comedy to children's books.
This year, Saleem published Growing Up Green, a collection of short stories about basic training and Army life. It took two and a half years to write the book and at the same time, he wrote several screenplays.
Currently, he is working on a screenplay for a sequel to a Cannes-screened film but said he can't divulge the name of the film or the story line at this time.
In his free time, Saleem is developing another screenplay and a novel.
"I write because its fun and I'm a day dreamer. It makes me smile," he said.
Last week, Saleem hosted informal book signings in Christiansted and discovered his community had not forgotten him and, indeed, came out in full support. Friends, family, former teachers and members of the American Legion attended the gatherings – it felt like a family reunion.
People asked questions about the book and his time in the Army and then, the questions and comments became memories of Saleem and his family growing up on St. Croix.
Throughout grade school and junior high, Saleem wrote with the help and advice of family members and educators. There were "lots of supporters, lots of mentors," he said.
When Saleem entered St. Croix Educational Complex, one teacher, Alcess Lewis-Brown, took him under her wing and encouraged his writing.  She said he was a member of the best class she ever had. They still communicate.
One of four sons born to Abdullah and Aminah Saleem, Khalid began storytelling at the age of five. When he was old enough he went to the movie theater next door to his mother's bookstore and grumbled about the story lines. Eventually, one of his brothers told him to quit complaining and write his own screenplays. So he did.
After leaving St. Croix at the age of 17 to join the military, Saleem traveled to various corners of the world and said he learned that the world is connected and we are "all experiencing the same things."
He earned an undergraduate degree at Temple University in Philadelphia, Pennsylvania, a Master of Arts from Full Sail University in Winter Park, Florida, and a certificate from the screenwriters' program at the University of California, Los Angeles where he also taught several courses.
Saleem continued to write throughout these years, everything from comedy to children's books, to refine his craft. He enlarged his circle of support wherever he went that includes the professional screenwriter who he credits for his current involvement writing for an action film.
"Your village is constantly growing if you let people in," he said.
The Saleem family has long been recognized in the community. Abdullah worked at Ricardo Richards Elementary School, taught students how to play chess and started the chess club. There is an annual tournament in his name at the school. He also was politically active and was vice-chairman of the Democratic Party. Abdullah Saleem passed away several years ago.
Aminah Saleem is well known as the former proprietor of the Sunny Isle bookstore for many years and then as the deputy director of the V.I. Energy Office. In between, she worked with the children's legal advocacy program, formerly CASA, and has served on several boards.
"It is the oneness of St. Croix, the way we are all connected to each other that helped my husband and I raise our children.  Everyone looked out for everyone's children.  St. Croix was a great place to raise my children," she said.