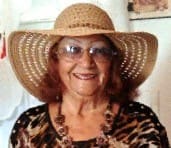 Benita Ayala Davis, also known as "Bene," of Estate Calquohoun died on June 29 in Florida. She was 80 years old.
She is survived by her daughters: Maria J. Davis and Carmen M. Davis; sons: Alfonso Correa, Jr., Antonio Davis and Luis Davis; grandchildren: Erica, Alfonso, Michael, Whitney, Ebony, Tyler, Tommy and Diniesha Correa, Sonjelis Davis, Gisselle Quiñones, Miguel A. Saldaña, Glenn Hewitt Jr., Maria Robles, Joycelyn Orta and Joanna Davis.
She is also survived by sisters: Carmen Ayala Ramos and Iris Ayala; brother, Antonio Ayala; daughters-in-law: Maricela Benitez Davis and Brunilda Santana; brother-in-law, Marcelo Ramos; sisters-in-law: Lydia Ayala and Carmen Ayala; special friends: Antonio Quiñones, Luz Ramos and Juan and Juanita Ayala; many nieces and nephews, cousins and other relatives and friends too numerous to mention.
A viewing will take place at 9 a.m. and a funeral service at 10 a.m. on Friday, July 14, at St. Joseph Catholic Church in Estate Mount Pleasant, Frederiksted. Interment will follow at Kingshill Cemetery.