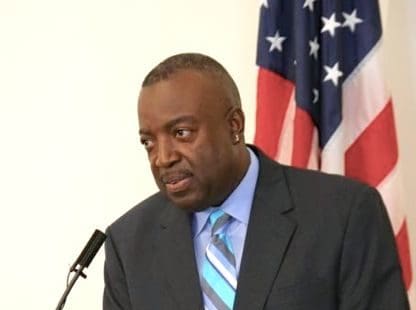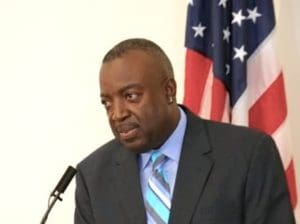 The day before Flag Day is celebrated nationwide, the acting governor of the Virgin Islands said one particular flag deserved no celebration. Lt. Gov. Osbert E. Potter, acting as governor while Gov. Kenneth Mapp is out of the territory, on Tuesday denounced an incident that occurred on Sunday at Brewers Bay on St. Thomas.
Sunday's event, the Float-A-Thon, was a fun filled beach party raising funds for My Brothers Workshop. But for the acting governor, one thing stood out in a negative way. In a news release issued Tuesday, Potter denounced the display of a Confederate battle flag by party goers arriving on the beach in a dinghy.
"A dingy boat with multiple occupants approached the shores with a Confederate flag prominently displayed, alongside the American flag on the boat. This took place during the 'What's Going on St. Thomas' event, which was a fundraiser for My Brother's Workshop. The attendees at the event were enraged and expressed concerns and offense towards the flying of the Confederate flag," Potter said.
Public indignation about displays of the flag known as the "Stars and Bars" has spread across the southeastern United States in recent years, with the flag's image appearing in some manner in several state flags.
The Facebook page hosted by What's Going on St. Thomas included comments made Wednesday by those still feeling an unfriendly presence at the party.
"What happened on St. Thomas with persons flying a known symbol of hate and racism is disgraceful and abominable," said site visitor Tiffany Scatliffe.
Potter, a military veteran, agreed.
"The Confederate flag is not welcomed, not accepted, nor tolerated in the Virgin Islands under any circumstances," he said. "The Confederate flag represents divisiveness, bigotry, slavery, and oppression. This is totally out of line with what we as Virgin Islands residents embrace, which is unity and acceptance of all people, regardless of race, color, religion or creed. 'The flying of the flag is totally offensive to Virgin Islanders, and I will not tolerate this blatant display of hatred to our people."
Flag Day, celebrated each year on June 14, is observed to mark the adoption of the American flag by the Continental Congress in 1777.
The Confederate battle flag was carried into the American Civil War by soldiers of the Southern states attempting to secede from the Union. Many historians say the conflict arose over the practice of slavery, and while revisionist historians argue that the conflict was more about states' rights, slavery was still a central issue.