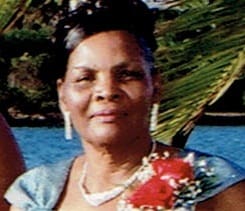 Veronica Moses died on May 25.
She was preceded in death by her mother, Mary Mason; father, Robert Mason; and brother, Azariah Benjamin.
She is survived by her spouse, Cromfield Moses; daughters: Carla Jones and Carmen Simmonds; sons: Myron Moses and Nigel Moses; stepdaughter, Shemarlo Crosse-Moses; daughters-in-law: Kizzie Foster Moses and Kareena Moses; sons-in-law: Paget Jones and Granville Simmonds Jr.; grandchildren: Elysa Moses, Jahmaree Moses, Mya Moses, Myron Moses Jr., S'joya Jones, S'vante Jones, Tinesha Theophane, Kamani Moses and N'kya Moses; great-grandchildren: Jahmaree Moses Jr., Jahwan Moses and Jacqueline Moses; and brothers: Linrod Mason, Glentis Mason, Steve Mason, Sylvester Mason and James Mason.
She is also survived by sister, Ornette Rosemary Mason-Whattley; brothers-in-law: Cyril Moses Sr., Stedroy Cornelius, Larry Cornelius and Royston James; sisters-in-law: Teresa Moses, Carmen Rosario, Mavis Sanford and Judith Brathlett; nieces: Shirla Huggins, Geisha Henry, Ornette Henry, Kimmoy Brathwaite, Samantha Rochester, Rashel Mason, Reanda Murray, Zayvia Romney, Pethal Bradshaw, Sharon Benjamin and Denise Benjamin; nephews: Raymond Mason, Jamal Mason, Glennis Rumley Huggins, Akeem Huggins, T'quan Bradshaw, Kimo Henry, Anthony Benjamin and Devon Benjamin; 12 great nieces and great nephews; and aunts: Viola Howell and Sarah Benjamin.
Other survivors include family/special friends: John and Catherine George and family, George and Rosana Bridgewater and family, Brenda Richardson and family, Charles and Jennifer Lambert and family, Cecil and Olinder Levine and family, Sam and Marjorie Dore and family, John and Rita Hughes and family, Mary Sutton and family, Neil and Pearline Claxton and family, Priscilla Clark, Vera Moore, Cyril Moses Jr., Ashley "Pink" Walters and family, Richard "Bull" and Pearline Weekes and family, Josephine Williams and family, Kelvin Noel and family, Kedroy Mitchell and family, Yvette Petersen and family, Olaf Hendricks and family, Mr. Paul Laundromats/co-workers; as well as other relatives and friends too numerous to mention.
A viewing will take place at 9 a.m. followed by a funeral service at 10 a.m., Tuesday, June 6, at St. Peter's Episcopal Church, No. 37 and 44 Castle Coakley. Interment will be at Kingshill Cemetery.