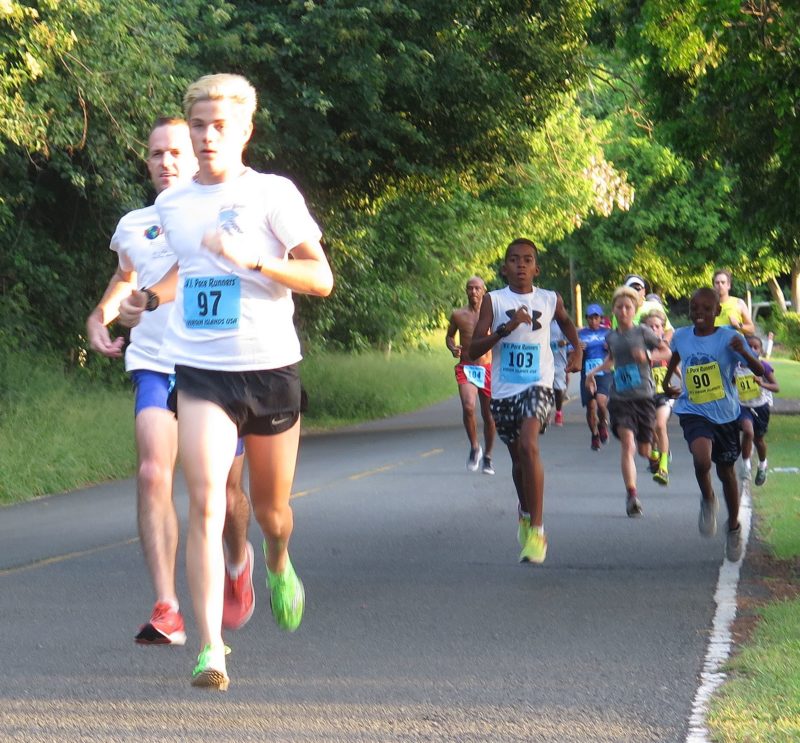 As the days of summer warm up, the V.I.Pace Runners road races shorten in distance. This makes life better for the runners. Historically, the point-to-point course for Monday's 34th Annual Memorial Day 2 Mile was all downhill until the new bypass was constructed, so now it finishes at the Christiansted overlook, which has a couple of hills in the last mile.
Dominic Pugliese of Good Hope Country Day School (GHCDS) battled all the way with Billy Bohlke, multiple winner of the event, to ease ahead by 10 seconds at the finish to clock 11:03 (11 minutes, 3 minutes) for the win with Bohlke in pursuit and second in 11:13; but the youth did not prevail for the third place spot as Randall Nielsen had a photo finish third over 13 year-old Brice Richards of GHCD 11:35 to 11:37 (basically they had the same time because it was so close); Mason Lambert the 10 year-old from GHCD took fifth in 13:28.
Megan Lambert, Mason's mom, was the first place female finisher in the race with a time of 15:00; Mario Alivio in her first race was second in 17:55; Cynthia Whitehurst was third in 19:15; Jamilah John Baptiste, an 8 year-old with the Mary's Fancy Track Club, was fourth in 19:25;
"Teddy Seymour, a U.S. Marines Captain and Vietnam Veteran once told me that the hills that serve as a backdrop to the historic town of Christiansted, reminded him of the hills in Vietnam," said Wallace Williams, race director. Now the Memorial Day 2 Mile finishes exactly where Seymour made his reference. No less than a half-dozen participants in the event were military veterans, and they took the opportunity to express their thoughts on the special day.
Wes Whitehurst, a C-130 pilot in the U.S. Air Force, called on participants to make a special effort to remember those who made the ultimate sacrifice.
Paul Barone an infantryman in the U.S. Marine Corps, spoke about how fortunate he was to make it through the Vietnam War; Brice Richards' father, a seaman in the U.S. Navy, shared memories of his time served; Randall Nielsen, a U.S. Army Gulf War veteran, expressed his satisfaction on running in the memory of lost veterans.
Ester Sweeney, a retired major in the V.I. National Guard, spoke of how proud she is to have served; Billy Bohlke, a major in the Puerto Rico Air Force National Guard and C-130 pilot served three tours in Afghanistan and still serves; Wallace Williams, a Vietnam Era four-year U.S. Air Force veteran, the founder and race director, shared a little history of the event and its meaning.
The next race on the V.I.Pace Runners calendar is the 33rd Annual Women Race at 5 p.m. on June 4 in Christiansted.
For information or to register, logon to http://virginislandspace.org (click on next race…)
For information, call 643-2557 or logon to: http://virginislandspace.org or e-mail wallacewilliams@msn.com
AWARD LIST FOR RACE – THE 34th MEMORIAL DAY 2MILE ROAD RACE
Distance: 2 Miles…Point-To-Point May 29, 2017
Beeston Hill to Bypass, Christiansted, St. Croix, Virgin Islands USA
Organized by: The Virgin Islands Pace Runners; Sanctioned by: The V.I. Track and Field Federation
********** MALE OVERALL RESULTS FOR 2Mile RACE ***********
Place — Name — Age — Club/City/School — Time
1 DOMINIC Pugliese 16 Good Hope Country 11:03
2 BILLY Bohlke 38 St. Croix, VI 11:13
3 RANDALL Nielsen 49 St. Croix, VI 12:35
4 BRICE Richards 13 Good Hope Country 12:37
5 MASON Lambert 10 Good Hope Country 13:23
6 ROBB Kuczynski 31 St. Croix, VI 13:30
7 KAEDEN Gleason 9 Good Hope Country 14:11
8 JAY Gleason 42 St. Croix, VI 14:47
9 FLORENDO Astropabio 38 St. Croix, VI 16:19
10 JAHIEM McIntosh 9 St. Mary's Track 17:37
11 WHAT'S Your Name 35 St. Croix, VI 18:51
12 JIMIAH John Baptist 45 St. Mary's Track 19:27
13 LARRY Williams 75 St. Croix, VI 23:37
14 WILLIE Lewis 59 St. Mary's Track 23:46
15 JOSE Torres 66 Atlanta, GA 30:38
********** FEMALE OVERALL RESULTS FOR 2Mile RACE ***********
1 MEGAN Lambert 41 St. Croix, VI 15:00
2 MARIA Alivio 35 St. Croix, VI 17:55
3 CYNTHIA Whitehurst 62 St. Croix, VI 19:15
4 JIMIAH John Baptist 8 St. Mary's Trac 19:25
5 CANDI Chitty 62 20:33
6 MYRTICE Torres 53 Atlanta, GA 30:17
FEMALE AGE GROUP: 1 – 9
1 15 JIMIAH John Baptist 19:25 8 St. Mary's Track 19:25
MALE AGE GROUP: 1 – 9
1 7 KAEDEN Gleason 14:11 9 Good Hope Country 14:11
2 11 JAHIEM McIntosh 17:37 9 St. Mary's Track C 17:37
FEMALE AGE GROUP: 10 – 19
MALE AGE GROUP: 10 – 19
1 1 DOMINIC Pugliese 11:03 16 Good Hope Country 11:03
2 4 BRICE Richards 12:37 13 Good Hope Country 12:37
3 5 MASON Lambert 13:23 10 Good Hope Country 13:23
FEMALE AGE GROUP: 20 – 29
MALE AGE GROUP: 20 – 29
FEMALE AGE GROUP: 30 – 39
1 12 MARIA Alivio 17:55 35 St. Croix, VI 17:55
MALE AGE GROUP: 30 – 39
1 2 BILLY Bohlke 11:13 38 St. Croix, VI 11:13
2 6 ROBB Kuczynski 13:30 31 St. Croix, VI 13:30
3 10 FLORENDO Astropabio 16:19 38 St. Croix, VI 16:19
4 13 WHAT'S Your Name 18:51 35 St. Croix, VI 18:51
FEMALE AGE GROUP: 40 – 49
1 9 MEGAN Lambert 15:00 41 St. Croix, VI 15:00
MALE AGE GROUP: 40 – 49
1 3 RANDALL Nielsen 12:35 49 St. Croix, VI 12:35
2 8 JAY Gleason 14:47 42 St. Croix, VI 14:47
3 16 JIMIAH John Baptist 19:27 45 St. Mary's Track 19:27
FEMALE AGE GROUP: 50 – 59
1 20 MYRTICE Torres 30:17 53 Atlanta, GA 30:17
MALE AGE GROUP: 50 – 99
1 18 LARRY Williams 23:37 75 St. Croix, VI 23:37
2 19 WILLIE Lewis 23:46 59 St. Mary's Track 23:46
3 21 JOSE Torres 30:38 66 Atlanta, GA 30:38
FEMALE AGE GROUP: 60 – 99
1 14 CYNTHIA Whitehurst 19:15 62 St. Croix, VI 19:15
2 17 CANDI Chitty 20:33 62 20:33
MALE AGE GROUP: 60 – 99
1 18 LARRY Williams 23:37 75 St. Croix, VI 23:37
2 21 JOSE Torres 30:38 66 Atlanta, GA 30:38
THE 34th MEMORIAL DAY 2MILE ROAD RACE –
Distance: 2 Miles…Point-To-Point May 29, 2017
Beeston Hill to Bypass, Christiansted, St. Croix, Virgin Islands USA
Organized by: The Virgin Islands Pace Runners; Sanctioned by: The V.I. Track and Field Federation
Place — Name — Age — Sex City/School/Club — Time — Pace
===== =================== === = =============== == ======
1 DOMINIC Pugliese 16 M Good Hope Count 11:03 5:32
2 BILLY Bohlke 38 M St. Croix, VI 11:13 5:37
3 RANDALL Nielsen 49 M St. Croix, VI 12:35 6:18
4 BRICE Richards 13 M Good Hope Country 12:37 6:19
5 MASON Lambert 10 M Good Hope Country 13:23 6:42
6 ROBB Kuczynski 31 M St. Croix, VI 13:30 6:45
7 KAEDEN Gleason 9 M Good Hope Country 14:11 7:06
8 JAY Gleason 42 M St. Croix, VI 14:47 7:24
9 MEGAN Lambert 41 F St. Croix, VI 15:00 7:30
10 FLORENDO Astropabio 38 M St. Croix, VI 16:19 8:10
11 JAHIEM McIntosh 9 M St. Mary's Track 17:37 8:49
12 MARIA Alivio 35 F St. Croix, VI 17:55 8:58
13 WHAT'S Your Name 35 M St. Croix, VI 18:51 9:26
14 CYNTHIA Whitehurst 62 F St. Croix, VI 19:15 9:38
15 JIMIAH John Baptist 8 F St. Mary's Track 19:25 9:43
16 JIMIAH John Baptist 45 M St. Mary's Track 19:27 9:44
17 CANDI Chitty 62 F 20:33 10:17
18 LARRY Williams 75 M St. Croix, VI 23:37 11:49
19 WILLIE Lewis 59 M St. Mary's Track 23:46 11:53
20 MYRTICE Torres 53 F Atlanta, GA 30:17 15:09
21 JOSE Torres 66 M Atlanta, GA 30:38 15:19