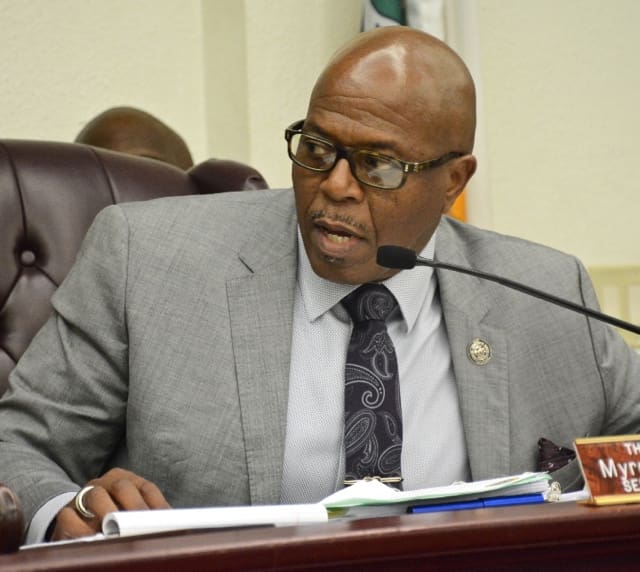 The Legislature's elevator at the Lagoon Complex on St. Croix had a mechanical issue, restricting the ability of those with disabilities to access their representatives' offices, but was repaired Wednesday, according to Senate President Myron Jackson.
Technicians from Otis Elevator Company, a worldwide elevator business with offices in Puerto Rico, finished installing a closed-loop door operator system this afternoon.
"We have worked diligently to repair the elevator at our St. Croix location to meet the needs of all in our community," Jackson said. "We experienced some delays in the process, but are pleased it is now fixed," he said.
Jackson said Sen. Alicia "Chucky" Hansen had made inaccurate public reports that she had called him several times about the elevator and that she had to meet with constituents in the parking lot and other outdoor public areas due to lack of elevator service. According to Jackson's office, he has not received any communications from her by phone or otherwise on the issue.
"It is not our intention to disenfranchise anyone in the community," Jackson said.
"At no time did Sen. Hansen contact me regarding her need to meet with her constituents in the parking lot, or around the institution, nor did my office or the executive director's office receive any concerns from her or from the public on the issue," he said. "While she met with me regarding security and staff travel to St. Thomas, during the meeting never once did she mention any concerns about access to the elevator."
The elevator door has been sticking since early February, according to Jackson's office. Legislature staff first tried manually resetting it from the first floor, then called Otis technicians to examine it as the condition persisted. A service agreement was signed in late February for the closed door loop system parts and installation. The loop system is power-operated and designed to resist changes in temperature, wind, and debris, as well as to monitor door speed and position.
At the end of March, a request for additional paperwork was processed through the executive director's office and sent to Otis Elevator Company on April 5. Jackson's office said staff made numerous attempts to follow up over the next few weeks, but were later told the company's phones were down. Otis reportedly sent the parts by FedEx April 25, but they were delayed in U.S. Customs.
Monday Otis technicians arrived. During the repair process, a notice had been placed on the elevator door. One central staff member was relocated to Sen. Jackson's Office, due to a challenge accessing the second floor. Executive staff members also reached out to Yvonne Petersen, executive director of the V.I. Developmental Disabilities Council, to tell her about the elevator repair project.
"It is our desire to serve the disabled community and the Legislature's staff to the best of our ability and we are pleased to have our elevator back in working condition," Jackson said.