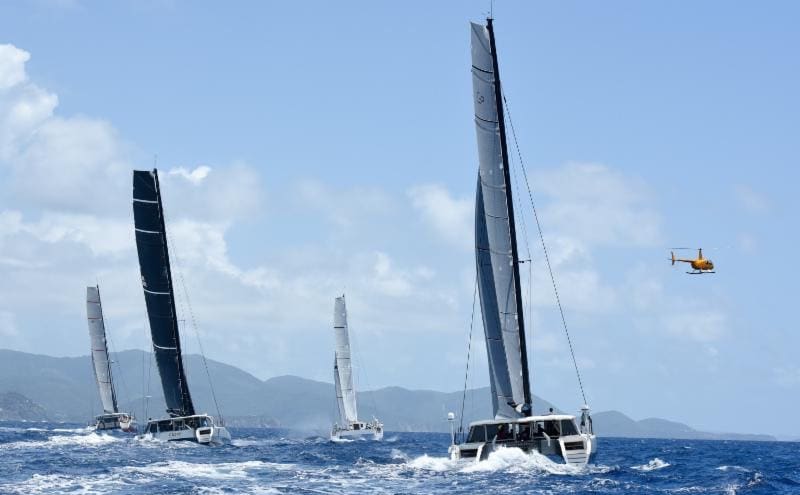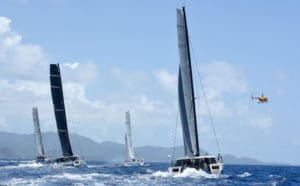 Several classes were too close to call going into the final day of racing at the 44th St. Thomas International Regatta Sunday. The regatta's round-the-island courses and weather that ranged from breathless calm to blustery gusts kept leads shifting back and forth throughout the three days of racing.
It all came down to the final day of racing on a picture-postcard perfect day, according to the St. Thomas Yacht Club, the hosts of the event.
"We went into today knowing there would be two races," said St. Thomas' Peter Corr, who helmed his King 40, Blitz, to victory in Spinnaker Racing 1 with a 10-person crew that included talent from as far away as Australia and New Zealand. "We wanted to win both races, so our goal was to be careful, to not make any errors or get protested. We did just that, and the win was thanks to a great combined effort and team work."
The BVI's Henry Leonnig, racing his Melges 24, Firewater, topped the Spinnaker Racing 2 class after tying on points with Canada's Rob Butler's J/88 Touch2Play racing team.
"I got up early this morning and said to myself we have everything to lose," said Leonnig. "By the time we headed out to the race course, the thought was to just relax, go sailing and have fun. Then at the start of the last race I began trying to overthink it. I stopped myself and went back to doing what we'd done throughout the regatta: get windward and get off the line fast. It worked. It was so incredible to be out in front of the class on that last race. Just pheromonal."
In the Non-Spinnaker Racing class, there were lots of happy faces on crew members aboard Varuna, a VAr 37, which bested St. Thomas' Kevin Gregory's Beneteau First 44.7, Odyssey.
"We both had seven points going into today," said Martin van Breems, founder and owner of the Sound Sailing Center, in Norwalk, CT. "Odyssey is a local boat and its sailed well. In the last race, we were slated to finish second. Then, Odyssey ended up not sailing the course properly and retired. It was a thrill for us to win. I've been sailing here for 16 years and this is the first time we've won our class."
The one-design C&C 30 and IC24 classes reveled in the razor-sharp competition.
In the C&C30's, the Cottonwood Heights, UT's Sandra Askew's Flying Jenny bested Julian Mann, from San Francisco, CA, aboard his Don't Panic, by four points.
"We've come together as a team over the last few months, having had a practice session together in the fall and then doing Key West Race Week," said Jason McShane, crew member aboard C&C 30 Class winner, Flying Jenny. "The boat was really well set up for the conditions. We have a sail program that's awesome, both quality and set up wise and that helped us a lot."
Puerto Rico's Fraito Lugo won the IC24 Class for nearly the dozenth time aboard his Orion. After twelve races over three days, there was only a five-point difference between Orion and second place finisher, Sembrador, sailed by Puerto Rico's Ramon Gonzalez.
"We came into the last day as the defender," said Lugo, whose crew included his 14-year-old son, Alejandro. "Sembrador really came on aggressively and were on the offense. They won two of the five races today. But in the last race we finished second, ahead of them, and were able to put points between us."
It came down to a tie-breaker to decide the winner in the Large Offshore Multihull Class. In the end the HH/MM Nala, bested the St. Croix-built Bieker 53, Fujin, owned by Greg Slyngstad from Sammamish, WA.
"This is the first regatta we've done on the boat since we launched her late last year and were extremely pleased with how the boat performed," said Gino Morrelli, president of Newport Beach, CA-based, Morelli & Melvin, who designed and crewed on Nala.
Meanwhile, in the Beach Cat class, St. Thomas Teri McKenna, placed first with nearly all first-place finishes aboard her Nacra 17, Flight Risk.
"We have lots of experience. Both Sandra Tartaglino and I have each sailed beach cats for over 30 years. Today's races were distance races offshore with the spinnaker boats. That made us really need to think about tactics. For example, we didn't want to get in the wind shade of a large yacht," McKenna said.
Class winners received Swiss-made, limited-edition, Island-styled timepieces from Cardow Jewelers, and other prizes, including high-quality duffle/backpacks from K3 Waterproof Gear.
STIR is a world-class event renowned for its round-the-buoys and round-the-islands racing, first-class race committee, superb shoreside festivities and friendly can-do attitude towards its competitors, organizers said.
The 45th edition is set for March 23 to 25, 2018.
More information is available by contacting Regatta Director Chuck Pessler at 340-642-3204 or sending email to cpessler@hotmail.com. STIR is on Facebook at www.facebook.com/stirvi, Twitter @stirvi and Instagram #STIRVI
STIR 2017 in sponsored by Cruzan Rum and Miller Lite, distributed by Southern Glazer's Wine and Spirits; the U.S. Virgin Islands Department of Tourism; K3 Waterproof Gear; Yacht Haven Grande; FirstBank; Switlik; VI Centennial Transfer Commission; The Moorings; and HiHo.