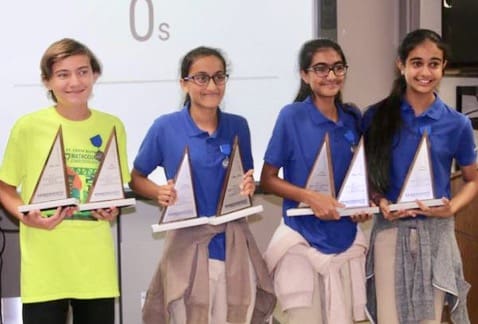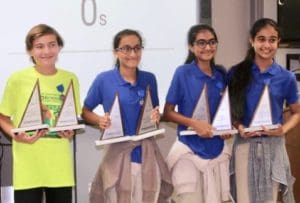 With 18 years of experience under her belt, Antilles School's Mathcounts coach, Michele Humphries, went into Thursday's territorial Mathcounts competition confident in the abilities of her students and predicted that one, maybe two, would end up on the V.I. state team for nationals.
By the end of the day, however, Antilles had earned three out of the four top mathlete spots and the award for top team, which allows Humphries, for another year, to be the coach that takes them to the Mathcounts national competition in May.
"They definitely did a good job," Humphries said after the top 10 winners were announced. "You know, our team always puts in the practice time, with the students meeting for 90 hours or more after school, on Saturdays and at lunch, working as many problems as possible, and their hard work definitely pays off."
To get into the top 10, students are judged on their scores from the competition's sprint and target rounds, where they are individually given a certain amount of time to complete different sets of math problems. The top four mathletes – Kashish Chainani, Tanya Mirchandani and Ashwarya Nagpal, along with Patrick Boring from Good Hope Country Day – advance to the national competition, which will be held this year in Orlando, Fla.
The remaining six students in the top 10 were: Mohit Mirpuri, Alessandro Gever, Jahan Daswani and Ronit Totwani from Antilles, along with Maya Griffith and Molly Brownsdon of Good Hope Country Day.
Good Hope Country Day placed second in the team round and also came into Thursday's competition well prepared, according to the school's first time coach, Gary Molloy.
"What's been great about the students is that they are all intrinsically motivated and also natural problem solvers," Molloy said. "When they practiced, they worked on core subjects, like algebra and geometry, but they also worked as a team and looked at what they were able to do based on their strengths and weaknesses."
Speaking after the competition, Humphries said the challenge now, with competitors from different islands, is to get them all on the same page for practices.
"We're going to work the same way as we normally would, but a lot of the conversations will be over email, or Skype or Facetime," she said. "Either way, we'll work together as a team to be as prepared and cohesive as possible going into the next competition."
Mathcounts is a national program designed to improve math skills among U.S. students. The program focuses on middle school students who are at a crucial stage in developing and sustaining math interest and ability.
Local sponsors of Mathcounts include the Virgin Islands Department of Education and the Rotary Club of St. Thomas II.