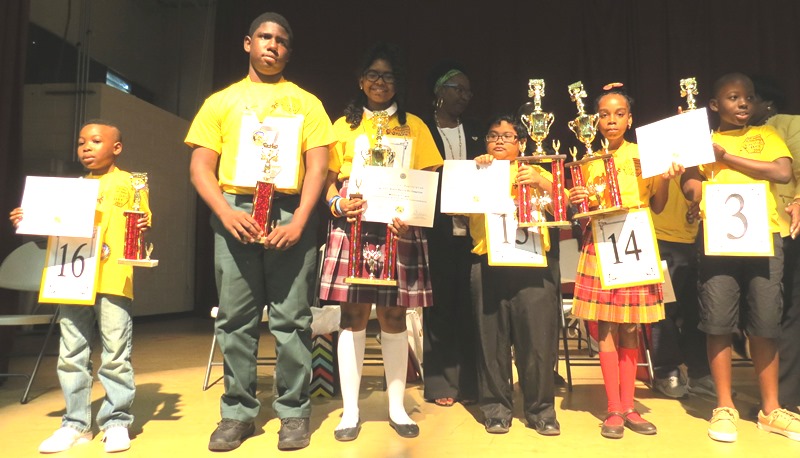 John H. Woodson Junior High School eighth-grader Makayla Todman, 13-years-old, won the St. Croix District 44th Annual Spelling Bee Championship on Friday, Feb. 24, after 21 intense rounds of competition with 17 other in-school bee winners in the district. She is also the reigning 2016 Territorial Spelling Bee champion.
Todman misspelled "palfrey" at the beginning of the 19th round, but her closest competitor, Daniel Lago, the first runner-up in the spelling competition, also misspelled "surmountable." Todman then went on to spell "hydrate" correctly at the top of the 20th round, while Lago, a 9-year-old fourth grader at St. Patrick's School, ended his run on the word "discalced." Todman quickly spelled "prodition" correctly, securing the district championship. She was coached by Chantelle Quionnes; Lago was coached by Sharonsne Elock.
Todman and Lago will be joined by four other finalists from St. Croix to compete against the top spellers in the St. Thomas-St. John District at the Territorial Spelling Bee on Wednesday, March 22, in the John H. Woodson Jr. H.S. Auditorium. The four other finalists in the competition in order of placement were Carmindy Pickering, Pearl B. Larsen Elementary; Z'Qi Chapman, Church of God Holiness Academy; Ivante Mark, Eulalie R. Rivera Elementary; and Michael Atwell, Good Hope Country Day School.
The other spellers in the 44th Annual St. Croix District Spelling Bee and their schools were:
School Spelling Bee Champs and School Names

Tahriq Joseph of Alexander Henderson Elementary
Joscelin Torres of Alfredo Andrews Elementary
Nicolas Phillip of Claude O. Markoe Elementary
Jahnya Allahar of Lew Muckle Elementary
Le'Vounte Hughes of Juanita Gardine Elementary
Reneecia Bertrand of Ricardo Richards Elementary
Aundre Wattley of Arthur A. Richards Jr. High
Taj Bates of Elena L. Christian Jr. High
Gene Wooton of Free Will Baptist
Charles Baptist of St. Croix Seventh-day Adventist
Sophia Lockwood of AZ Academy
Sumaya Velasquez of St. Croix Christian Academy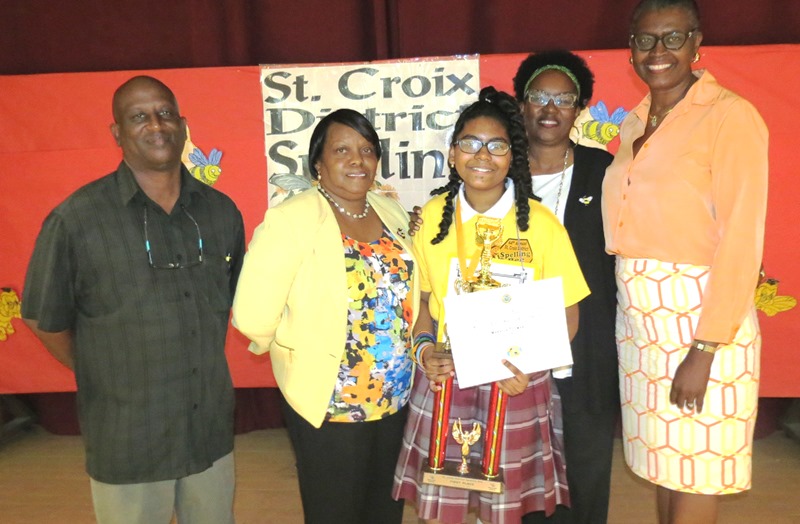 St. Croix Superintendent of Schools Colleen Mae Williams, reflecting on the excitement of the educational contest, said, "I would like to commend everyone for their hard work and dedication to seeing the District's 44th Spelling Bee to fruition. Today's Bee was excellent, well organized and the entire program is evidence of this. Our students were engaged and challenged from the practice round all the way through to the Bee Competition."
Williams added that the spellers' performances gave the audience nail biting excitement. "Their decorum and use of vocabulary strategies as they spelled difficult words in the presence of their peers, families, well-wishers and the media, showed how confident and well prepared they were."
Language Arts Coordinator Carla Bastian, Ed. D coordinated the District Bee. Other sponsors include the Virgin Islands Daily News, Houghton Mifflin Harcourt, Scholastic Inc., Banco Popular, Cost U Less and Plaza Extra East.