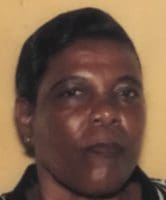 Helena David, (Blaize), went to meet her savior on Thursday, Feb. 9. She was born in Grand Bay, Dominica, on June 13, 1949. She migrated to St. Croix in 1974 and worked in the retail industries.
She was the daughter of the late Veronique Mark and Francis Blaize of Grand Bay, Dominica, and the wife of the late Ira David.
She is survived by her daughters: Irma Francis, Kathleen Williams and Letticia Williams-Fortt; son, Tyrell David; sons-in-law: John Fortt and Hyram Lavinier; stepsons: Tyrone, Rasheed and Hasheem David; grandchildren: Camisha Francis, Terrell, Brianna and Ayanna Lavinier, Imani, Anisa, Olivea Fortt and Aliyah Francis; great-grandchildren: Renae and Ramir Crenshaw; brother-in-law, Simeon David; siblings: Portia Letang, Cecilia Gregoire, Crescencia Wallace, Jacinta Blanc-Stuart and Henry John; as well as several nieces, nephews, friends and family too numerous to mention, including the David family, especially Naomi Clark-Thomas.
A funeral service will be held at 10 a.m. on Monday, Feb. 20, at Divine Funeral Services Chapel, 129 Peter's Rest. Interment will follow at Kingshill Cemetery.