A team from the Good Hope Country Day School won the St. Croix district 2017 MATHCOUNTS competition Wednesday after facing off at the University of the Virgin Islands Great Hall with four other district school teams.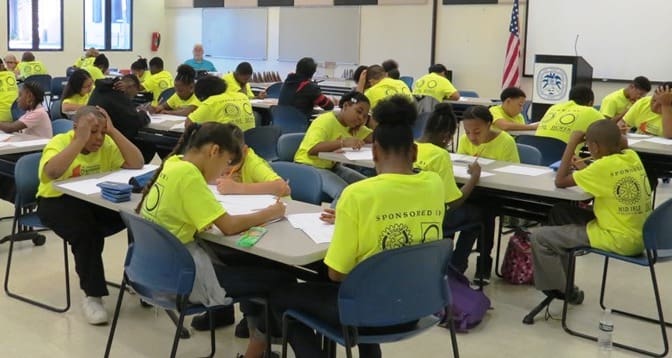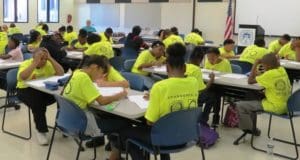 Top students from all over St. Croix rounded out the top 10 competitor slots and will go on to compete against the top 10 St. Thomas/St. John students in a final round.
The 50 students who competed represented Ricardo Richards Elementary, Alfredo Andrews Elementary, Church of God Holiness Academy, John H. Woodson Jr. High and Good Hope Country Day. Ricardo Richards and Alfredo Andrews Elementary Schools have been participating in the mathematical competition designed for junior high school students for several years.
Students competed in the Sprint Round, the Target Round, Team Round and the Countdown Round, which was a fast-paced, oral contest for eight top-scoring students based on scores in the Sprint and Target Rounds. Subjects included algebra, probability, statistics and geometry.
Members of the GHCD team are Patrick Boring, the top scorer in the contest and also the winner of the Countdown Round; Molly Browsdon; Collin Grey; and Maya Griffith. The team is coached by Gary Molloy.
The district winners now on the St. Croix team are Brice Richards of Good Hope Country Day; Saba Alfred, Good Hope Country Day; Marck Sinco, John H. Woodson Jr. High; Cehara Biscoe, Good Hope Country Day; Samantha Peter, Church of God Holiness Academy; and Christian St. Rose of Woodson. Winners received prizes and will advance to the state MATHCOUNTS finals set for March 16 on St. Thomas.
Ricardo Richards School MATHCOUNTS coach Zahra O'Reilly said she is proud that her former students Marck Sinco and Christian St. Rose, competing with John H. Woodson Jr. High team, are now on St. Croix's MATHCOUNTS team. Alfredo Andrews School MATHCOUNTS coach Loretta Whilby-Royes also was happy her former mathletes are now members of a junior high school team.
"I am bringing them out to this contest for the experience," Whilby-Royes said of her fifth- and sixth-grade students participating on the school's team. "I see potential in them and by the time they reach the junior high level they are well prepared to take on the mathematical equations in the MATHCOUNTS competition," she said.
Local sponsors of the 2017 MATCOUNTS competition include the Virgin Islands Department of Education, Rotary Club Mid-Isle and Ocwen Mortgage Serving LLC.
MATHCOUNTS is a national program designed to improve math skills among U.S. students. The program focuses on middle school students, who are at a crucial stage in developing and sustaining math interest and ability. Students who do not begin developing strong problem-solving, logical thinking and analytical abilities in middle school will face an uphill battle later in life if they wish to pursue a medical, scientific, mathematical, engineering or technical career.