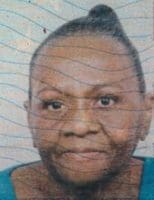 Ann Juliette Joseph of Estate La Grande Princesse died on Feb. 8. She was 71 years old.
She is survived by her husband, Mikey Joseph; daughter, Alejandra Joseph Gibson; son, Alfonso Joseph; grandchildren: Snow Gibson, Jude Gibson, Miles Joseph, Ava Joseph and Angelo Joseph; sister, Cita Matthew Joseph; brothers: Pady Matthews and Dennis Matthews; son-in-law, Darrell Gibson; daughter-in-law, Cerise Joseph; and other relatives and friends too numerous to mention.
A viewing will take place at 10 a.m. followed by a funeral service at 10:30 a.m. on Tuesday, Feb. 21, at Holy Cross Catholic Church. Interment will be at Kingshill Cemetery.