Johnie Charles, also known as "Jet," of Estate Ginger Thomas died on Jan. 30, at Gov. Juan F. Luis Medical Center. He was 84 years old.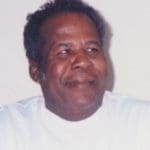 He was preceded in death by his son, Gibson Charles.
He is survived by his wife, Mavis Weatherill Charles; daughters: Sharon Charles, Annie Charles, Judith Charles, Brenda Richardson (stepdaughter), Vincentia George, Cassandra Charles and Iris Doreus; and sons: Leroy Charles, Kenneth Charles, Christopher Charles, George Charles, David Charles, Bernard Small (stepson) and Nicholas John.
He is also survived by grandchildren: Raymond Charles, Tony Reid, Marlon Charles, Jeremy Richards, Dana Charles, Kenisha Charles, Ashley Charles, Kenneth Charles Jr., Christopher Charles, Jr., Caitlin Charles, Jared Charles, Ashanti Charles, Celia Charles, Gibson Charles Jr., Simone Charles, Irick George, Julie Deterville, Ian Henry, Randy Henry, Maleysia Henry, Shakema Doreus, Tasha Doreus, Neiga Doreus and Nicholas John.
Other survivors include sisters: Elizabeth Malcolm, Geraldine Malcolm and Rosella Jules; brothers: Peter Malcolm, Norber Malcolm and Antoine Charles; special friends: the Wilshiers, The Harleys, Ruth Pierre and Ona Orre; as well as other relatives and friends too numerous to mention.
There will be a viewing held at 9 a.m. followed by a funeral service at 10 a.m. on Monday, Feb. 13, at the Sunny Isle Baptist Church. Interment will be at Kingshill Cemetery.