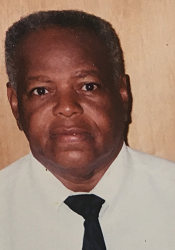 Retired U.S. Virgin Islands Police Corporal Lauritz Lawrence Moorehead of Estate Mon Bijou died Jan. 27.
He was preceded in death by his father, Hugo Leroy Moorehead Sr.; daughter, Shanel Moorehead; sister, Janice Moorehead; and granddaughter, Janelle Moorehead.
He is survived by his wife, Mercedes McIntosh-Moorehead; mother, Fraline Genevieve-Lenhardt; daughter, Laurel Moorehead-Suarez; sons: Raymond Moorehead Sr., Ronald Moorehead and Rodney Moorehead Sr.; grandchildren: Omari, Kheyanna, and Amaya Suarez, Raymond Moorehead Jr. and Laura-Ann Moorehead, Rodante and Rodney Moorehead Jr., and Ryan Moorehead; sisters: Carmen Moorehead-Mills and Fraline Moorehead; and brothers: Dr. Roderick Moorehead Sr., Hugo Moorehead Jr., Kent Moorehead Sr. and Randolph Moorehead.
He is also survived by his father-in-law, Stanley McIntosh Sr.; daughters-in-law: Selena, Sharon and Loretta Moorehead; son-in-law, Mario Suarez Sr.; sisters-in-law: Marjorie and Maureen Moorehead, Bernadette Hansen, Elvina, Dorothy, Estelle and May Louise McIntosh, Daphne McIntosh-Rodriguez and Sylvia Brathwaite; nieces: Michelle Grant, Temara Honore, Marjorie, Kimberly, Kenesha and Kamilah Moorehead, Kameca Moorehead-Thomas, Patrice Moorehead-James and Lisa Moorehead-Carr; and nephews: Terrance Christopher, Roderick Moorehead Jr., Guy Chastanet Jr., Kent Moorehead Jr., Hugo Moorehead III, Ronni, Jaleel, Tariq, Owen and Charles Moorehead.
Other survivors include godmother, Gertalin Bolling; godchildren: Steve Parris, Gary Thomas, Janice Thomas, Sherise Williams and Renaldo Alphonso Martin; special friends: Helena Adams, Irea Cole, Louise Clarke, Oliver Cornelius, Wilbert Dennis, Francis Greenidge, Joyce Herelle, Montgomery Jones, Patrice Martin, Natalie Moorehead, Daisy Paul, Vincenta Pilgrim, Victor Ward, Raymond Williams, Christiansted High School Class of 1966, Members of the Law Enforcement Officer Retirees Organization; special families: Berkley, Gerard, Henry, Hendricks, James, Lenhardt, McIntosh, Moorehead, Suarez and Turner.
A viewing will take place at 9 a.m. followed by funeral service at 10 a.m., Friday, Feb. 10, at Friedensthal Moravian Church. Interment will follow at Kingshill Cemetery.