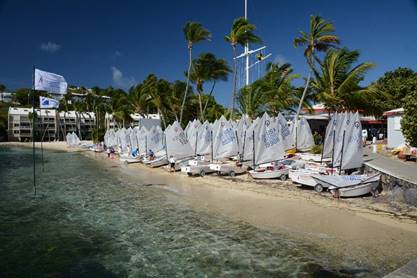 Registration is now open for the International Optimist Regatta (IOR), presented by EMS (Electronic Merchant Systems) Virgin Islands at www.regattanetwork.com. Scheduled for June 16-18, the regatta will kick off with the TOTE Maritime Clinic, June 12-14 and TOTE Maritime Team Race, June 15.
This trio of events is globally known for instruction by some of the best Optimist coaches in the world for both Green and Advanced fleet sailors, it is an opportunity to team race. It is some of the best international competition in perfect Caribbean conditions – all in a one-week event.
"We are excited to announce that registration for 2017 IOR is officially open. We are expecting record numbers again this year and are ready to welcome everyone down to our tropical sailing paradise! Preparations have begun for what we hope will be another memorable regatta. Please be sure to register as soon as possible as this year we will close the registration at 125 sailors. We look forward to seeing everyone in June," said Ann Nicolosi, regatta director.
The IOR is sponsored by EMS Virgin Islands, TOTE Maritime, the U.S. Virgin Islands Department of Tourism and K3 Waterproof Gear.
To register, visit the Web site. The Notice of Race is available on-line.
For charter boats, request and confirm online. Or, contact Pete Gregory, McLaughlin Boat Works, 1 (423) 875-0740, 1 (423) 875-4040 or toll free in the U.S. 1 (800) 784-6478; E-mail: pete@optistuff.com. The deadline to reserve charter boats is May 31.
For accommodations, call the Elysian (800-775-1000 ext. 568) or VP Rentals (800-788-4847). Rent condos or villas thorough Sea Glass Properties (340-774-5277), John Foster Real Estate (340-775-9500) or Curreri & Co. (340-776-9292).
For more information, call (340) 775-6320, e-mail: internationaloptiregatta@gmail.com, or visit the host's Web site: St. Thomas Yacht Club