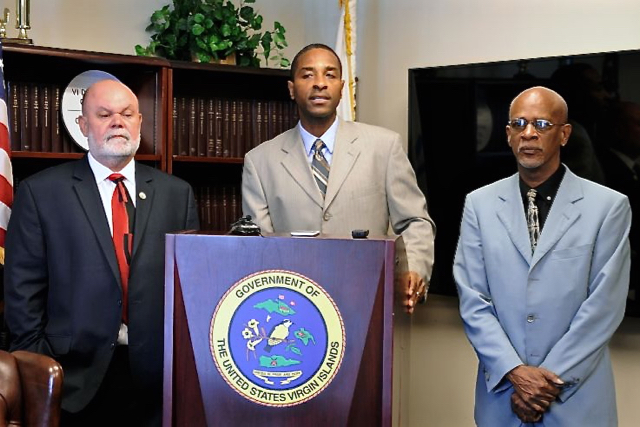 A government settlement with Janssen Pharmaceuticals has resulted in a $300,000 payout that Attorney General Claude Walker said Monday would be heading into the General Fund.
During a press conference on St. Thomas, Walker said the settlement agreement stemmed from claims made against Janssen for false marketing, specifically related to the drug Risperdal, an antipsychotic commonly used to treat schizophrenia, bipolar disorder and irritability in people with autism.
The claims dealt with how the drug was marketed in the Virgin Islands prior to 2008. Marketing used to be conducted according to federal Food and Drug Administration guidelines but Walker said investigations conducted by his office and the local Department of Licensing and Consumer Affairs "revealed" that Janssen violated V.I. Unfair Trade Practices and Consumer Fraud acts by "deceptively minimizing the increased risk" of the drug."
"The government investigated claims that Janssen … deceptively minimized the increased risk certain patients who took Risperdal would develop diabetes, which prompted a warning letter from the U.S Food and Drug Administration," Walker said during the press conference.
He added that the pharmaceutical company "deceptively marketed Risperdal for pediatric patients while denying and failing to disclose risks that boys would develop gynecomastia, or enlarged breasts, an obviously serious side effect, and suffer other hormonal effects."
Janssen also promoted Risperdal for elderly patients without disclosing that the drug was not approved for use by the elderly, Walker added.
Walker said that the $300,000 payout was the "single largest consumer settlement involving the Department of Licensing and Consumer Affairs," and added that in pursuing the settlement, his office and DLCA investigated "thousands of pages" of documents produced by Janssen and interviewed doctors in the territory.
He also said Janssen's marketing and sale of Risperdal in the territory was "limited."
Walker also announced that automaker Toyota will send representatives to the territory for a series of "repair-a-thons" that will repair or replace faulty airbags in vehicles throughout the territory.
Last May, Walker announced that would file suit against Takata Corporation and Honda for making, installing and selling faulty airbags that resulted in the injury of at least one person in the Virgin Islands. The companies didn't disclose information on the faulty airbags to customers, and last year the territory joined several other states in filing suit against them.
Honda responded by sending repair teams to the territory and on Monday, Walker said Toyota would participate in similar events to service the territory's approximately 1,195 Toyotas with faulty Takata bags.
Repair-a-thons will be held on St. Croix on Feb. 3 and 4 and at the Toyota dealership on St. Thomas on Feb. 11 and 12. Owners can also have their Takata airbags replaced free of charge by scheduling an appointment, according to Bureau of Motor Vehicles Director Lawrence Olive.
A list compiled by the National Highway Traffic and Safety Administration (NHTSA) specifies the affected Toyota vehicles that are subject to the Takata recall, which include 2010-2016 Toyota 4Runner, 2009-2013 Toyota Matrix, 2011-2014 Toyota Sienna and the 2007-2012 Toyota Yaris (sedan). The complete list is online at http://www.nhtsa.gov and on the Department of Licensing and Consumer Affairs' website.