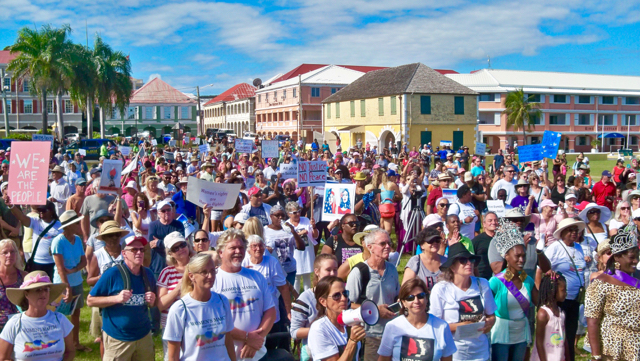 Women on St. Croix joined their sisters around the world marching in solidarity to send a bold message to a new administration on its first day in office.
More than 500 women and men marched, carried signs, chanted and let their voices be heard in Christiansted Saturday, just one of 673 Women's Marches across the globe. Another roughly 300 marched on St. Thomas and 200 on St. John.
People of all ages marched in a peaceful protest that began right on time at Sunday Market Square, moving down King Street to the bandstand at the Christiansted National Park lawn near the old slave market. There were a lot of smiles, hugging and camaraderie among the crowd, and people appeared hopeful.
The chant "One-two-three-four, we women want more. Five-six-seven-eight don't despair participate," rang out loud and clear during the march, as were "Women's rights are human rights," and "Our bodies – our choices." And of course the Crucian saying "All ah We" in solidarity was chanted.
At the bandstand organizers and more than a dozen people, including rabbis, ministers, authors, and poets gave brief statements and readings.
Carol M. Burke, National Committee Woman for the Democratic Party of the Virgin Islands, who was instrumental in helping pull the community together for the march, said, "We are marching for the children and their tomorrow."
"Women's rights are human rights. And it's important to tell the world how we feel," Burke said. She added the crowd's collective voice is being heard in Washington and around the world.
Music in Motion ballerinas danced, Mascha Williams sang and people in the crowd sang and danced.
Rennetta Lewis, a University of the Virgin Islands student, read "The Power of Sisterhood." She said as a young adult she was glad her voice was being heard. Local author Opal Palmer Adisa also read.
Qiyamah Rahman, St. Croix Unitarian Universalist minister, read the poem "For My Daughter in Difficult Times." Rabbi Marna Sapsowitz read "Psalm for Inauguration Day" by Rabbi Brant Rosen.
Ghadeer Taha, a young Muslim woman, also spoke, saying she hopes for peace, tolerance and understanding among all genders and religions.
Two of the numerous organizers, Rhonda Pessin and Toni Lance, said their grassroots group grew by the day and they were able to pull it all together in less than two weeks.
"It was incredible, there was so much interest in the march," Lance said. "We see all walks of life come together for the march. St. Croix is a good example of a melting pot."
Pessin added it's all about community.
"The march is incredible, inspiring and empowering," Pessin said. "Don't despair, turn despair into action. If we march things change. It's time to rise up, there's too much at stake."
Women on St. Croix marched for basically the same reasons as women world wide, from Alaska to Australia.
Pat Weeden, a snowbird, said she marched to show her support for women's reproductive rights, the environment, health care, civil rights and decency.
Simone Palmer, local physical therapist, said she believes there is strength in numbers and she was happy to see so many people come together on St. Croix.
"We're marching and moving forward not backward," Palmer said.
"I was overjoyed to see the turnout," local actress Bonita Rapp said. "We joined with brothers and sisters all across America in support of our freedom."
Michael Dance said just being there is making a statement. And Terry Chretien said it was nice to see such a diverse turnout.
"As Crucian women it's our responsibility take charge," Kaila Francis said. "Women in our history have been movers and shakers. Like the Three Queens."
Tiana Gumbs, an expectant mother whose first child is due in April, said "I marched for my unborn daughter's future."
One of the organizers said she marched for mothers and Mother Earth. Another marched for education for girls every where. Some marched for the environment and to save the planet Earth. One marched for immigrants and America having a big open door. And another organizer marched to help build bridges not walls.
Only three senators showed up, Sammuel Sanes, Novell Francis and Nellie O'Reilly. Elizabeth Centeno, district director for Delegate to Congress Stacey Plaskett, read a message from the delegate who was in Washington, D.C.
Organizers thanked the National Park Service and the V.I. Police Department for their help and cooperation.